Binghamton Motorcycle Accident Lawyer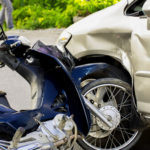 If you are a motorcyclist who has been involved in an accident, it's likely that you have suffered serious personal injuries. Motorcycles don't have the structure that other motor vehicles provide to protect occupants in a crash.
Many motorcyclists are harmed because other drivers have been careless or reckless. Motorcyclists have the same right to the roads – and the right to be compensated if another driver causes an accident that hurts them.
Scott C. Gottlieb, Injury Law Attorney, can work to help you get justice if you or a family member has been seriously injured in a motorcycle accident because of someone else's carelessness. Obtaining the compensation you deserve after a motorcycle accident is likely to require filing a personal injury claim. We represent motorcycle accident victims in Binghamton and throughout New York. We Will Fight For You
Contact us today for a free review of your motorcycle accident case.
Visibility and Motorcycle Accidents
Many motorcycle safety programs, including the New York Governor's Traffic Safety Committee's SafeNY program, focus first on other drivers sharing the road and watching out for motorcycles and motorcyclists.
An influential study titled "Motorcycle Accident Cause Factors and Identification of Countermeasures" (or simply called the "Hurt Report" for its author), says about 75 percent of motorcycle accidents involve collisions with another vehicle, which is most often a passenger car. In two-thirds of these accidents, the driver of the other vehicle violated the motorcycle's right-of-way and caused the collision.
Intersections are the most likely place for a motorcycle accident, with the other vehicle not only violating the motorcycle's right-of-way, but often violating traffic controls (stoplights and stop signs, for example) as well, according to Hurt.
"The failure of motorists to detect and recognize motorcycles in traffic is the predominating cause of motorcycle accidents," Hurt says. "The driver of the other vehicle involved in [a] collision with the motorcycle did not see the motorcycle before the collision, or did not see the motorcycle until too late to avoid the collision."
Motorcycle Accidents Cause Serious Injuries
The National Highway Traffic Safety Administration (NHTSA) says motorcyclists are about 30 times more likely than passenger car occupants to die in a motor vehicle crash, and five times more likely to be injured.
The SafeNY program says there were 5,336 motorcycle accidents in the state in 2011. Of these accidents, 4,550 (85 percent) resulted in personal injuries to 5,180 people, and 168 resulted in a total of 171 deaths.
Injuries to a motorcyclist involved in an accident may range from cuts and scrapes (road rash) to broken bones, severed limbs or digits (fingers, toes), spinal cord injuries and head injuries, including traumatic brain injury (TBI).
Investigating a Motorcycle Accident Claim in New York
Even the most visible and safety-conscious motorcyclist can be injured in an accident caused by another motorist's negligence. When this happens, motorcyclists may have a right to compensation for their losses, including money for medical expenses, property damage and lost income, as well as for their pain and suffering.
Resolving a claim usually requires a detailed investigation of the motorcycle accident. Scott C. Gottlieb, Injury Law Attorney, works with accident reconstruction and economic experts to help prepare persuasive cases that show what happened in a motorcycle accident and the compensation the victim deserves.
Developing a legal claim can be complicated and time-consuming. New York law imposes deadlines for filing a personal injury or wrongful death lawsuit after a motorcycle accident. It is best to get started on your case as soon as possible.
There is no charge for an experienced Binghamton motorcycle accident lawyer at Scott C. Gottlieb, Injury Law Attorney, to review your case and explain the legal options available to you. Every case is different, and although we cannot guarantee the outcome of yours, experience counts. We have a successful track record and a commitment to obtaining maximum compensation for our clients.
Call us at our 24-hour answering service or fill out our online contact form now.
Sources:
SafeNY Traffic Safety Topics: Motorcycles, Mopeds & ATVs
Findings from the Hurt Study, "Motorcycle Accident Cause Factors and Identification of Countermeasures"
NHTSA Traffic Safety Facts: Motorcycles