Binghamton Truck Accident Lawyer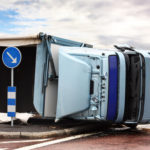 Crashes involving tractor-trailers and other heavy trucks are some of the most horrific accidents that happen on the highways and roads in and around Binghamton and across New York's Southern Tier. If you've been involved in a auto collision with an 18-wheeler or even a smaller box truck, you know the dire consequences these accidents produce.
Truck accidents also result in some of the most complex – and high-stakes – personal injury claims and lawsuits. There are often many defendants and insurance companies involved, each with the goal of paying as little as possible on your claim. Truck accidents also frequently call into question a number of technical regulations and may require an intensive investigation and accident reconstruction.
That's why you need a strong advocate for your rights if you've been hurt by a careless truck driver or negligent trucking company. New York truck accident lawyer Scott C. Gottlieb has earned a reputation for securing positive results for victims of serious accidents in Binghamton and surrounding areas. Injury Cases, That's All We Do.
Contact us now for a free evaluation of your case. Call our 24-hour answering service at (607) 235-2754, or fill out our online contact form.
Types of Tractor Trailer Truck Accidents
Tractor-trailers and other big trucks are often involved in the same sorts of crashes as cars and other passenger vehicles. However, due to their size and unique handling characteristics, semi-trucks and other large commercial vehicles are more prone to certain types of collisions, such as those involving:
Rollover – Due to their higher center of gravity (top-heaviness), tractor-trailers and other trucks are more likely to tip onto their sides or roll over when making a sharp turn or swerving. This is dangerous not only for the truck driver, but also for the occupants of any vehicles that are traveling close to the truck.
Underride – Like any vehicle on the road, tractor-trailers are often involved in rear-end collisions. However, these can be particularly devastating for the occupants of a passenger vehicle that hits the rear of a trailer or a truck. Due to the mismatched heights of the vehicles and the lack of proper impact protection, cars often underride the truck or trailer, causing catastrophic injuries.
Blind spots – Despite large mirrors, truck drivers must still contend with blind spots that obscure nearby vehicles from their vision. If a passenger vehicle is traveling in a trucker's blind spot, an accident could result when the truck changes lanes or turns.
Wide turns – Due to their length, all trucks require more room to turn than passenger cars do. Semi-trucks make even wider turns. This can result in a truck crossing into oncoming traffic or cutting off a car that is alongside a turning truck.
Head-on collisions – Head-on collisions are one of the most deadly types of accidents regardless what type of vehicle is involved. They are even worse when one of the vehicles is a tractor-trailer weighing up to 80,000 pounds. If a truck crosses the center line or median strip and hits oncoming traffic, the results are usually catastrophic.
Jackknifing – Trucks that pull a trailer are susceptible to jackknifing, which occurs when the trailer and the truck pivot in such a way that the two are no longer aligned. A jackknifed truck can collide with an unsuspecting motorist whose vehicle is caught in the path of a sliding trailer.
Causes of Truck Accidents
The nature of the trucking industry increases the likelihood that truckers will engage in certain dangerous practices behind the wheel of their large machines. Unrealistic delivery schedules and economic pressure to travel more miles in less time can lead to risky driving on the part of truckers. Some examples include:
Driver fatigue – There is an old saying in the trucking business, "If the wheels aren't turning, you aren't earning." The pressure to go farther and faster pushes many truckers not only to speed, but also to continue driving even when they are too tired to do so safely. Federal hours of service regulations are intended to ensure that truckers get enough rest, but these are often skirted by drivers who are trying to get in more miles.
Impaired driving – Commercial drivers are held to a legal limit of 0.04 percent blood alcohol level – half the limit for other drivers. While some truckers do get behind the wheel after drinking too much, perhaps a larger problem is the use of prescription, over-the-counter and illegal drugs – particularly those thought to increase alertness or keep a driver awake. These substances can impair a trucker's driving ability and lead to a crash.
Driver distraction – Truckers spend many long, often boring, hours on the road. Some attempt to break the monotony by talking on the phone, texting, talking on the CB or even watching movies or playing with a smartphone. In addition to these distractions, truck drivers can also lose their focus on driving by using electronic dispatch devices, eating behind the wheel, adjusting the radio or just getting lost in daydreams.
Faulty equipment – Trucks and trailers must be properly inspected and maintained to ensure that they remain roadworthy. When corners are cut on repairs and maintenance, unsafe trucks can pose a real accident threat. Faulty brakes, tire blowouts, insufficient lighting and other problems with a truck can contribute to an accident.
Traveling too fast – Due to their weight, trucks have an exceptionally long stopping distance. This makes it critical that truckers always obey the speed limit and never drive faster than the conditions permit for safety. A speeding truck is often the cause of some of the worst pileups on major highways when the vehicle is unable to stop before plowing into jammed traffic, for example.
These are just a few of the many factors that can contribute to a truck accident. It is important to contact a truck accident attorney as soon as possible after the crash so an independent investigation can take place while evidence is still available. Accident reconstruction experts are often able to use evidence such as driving logs, "black box" data recorders, skid marks, vehicle damage, witness statements and other information to reconstruct what truly caused the crash.
Wrongful Death in a New York Semi Truck Accident
Tragically, truck accidents often result in fatalities. If you have lost a close relative in a truck accident that was someone else's fault, you may be entitled to bring a wrongful death claim under New York law.
In New York, the deceased's personal representative serves as the plaintiff in a wrongful death lawsuit. This person pursues the claim and then distributes the proceeds to the surviving family members according to law.
Types of compensation that may be available for the loss of a loved one in a fatal truck accident include:
The deceased's medical costs related to the accident that were incurred prior to his or her death.
Compensation for the conscious pain and suffering and pre-accident terror of the deceased.
Burial costs.
Compensation for the lost support and services that the deceased would have provided to dependents and family members, including the value of parental nurturing and physical care that a parent would have provided to children if the deceased parent had not died.
Money the deceased would have earned and provided to the family over the course of his or her life had the untimely death not occurred.
Wrongful death cases can be especially complex, making it critical to work with an experienced attorney.
Hurt in a Truck Accident? Truck Accident Lawyer Scott C. Gottlieb Can Help
If you believe that you may have a claim for injuries you suffered in a truck accident – or the loss of a close relative in a crash – the best way to find out for sure is to discuss your situation with a knowledgeable attorney. Scott C. Gottlieb, Binghamton personal injury attorney, is ready to review the specifics of the crash and advise you about your legal rights in a free consultation.
We know how to deal with investigators, claims adjusters and the attorneys representing trucking companies and their insurers. Their goal is to minimize the company's payout on claims. We know the maximum amount allowed by law, and it is our goal to get that amount for you. That is why it is in your best interests to speak with our truck accident attorney.
Contact us today for a free evaluation of your case. Call our 24-hour answering service at (607) 235-2754, or fill out our online contact form. Injury Cases, That's All We Do.
*Our prior results don't guarantee a similar outcome in every case.