Distracted Driving Car Accidents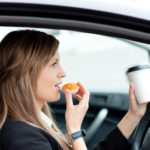 Distracted driving car accidents caused by such diversions as a driver adjusting the radio, looking at a map, eating or talking to passengers have long been a danger on American roads. But in recent years, drivers who talk on cell phones, text while driving or use other electronic devices have made distracted driving a leading factor in car accident injuries and deaths in New York and across the country.
Data in the U.S. Department of Transportation's Fatality Analysis Reporting System (FARS) show that 3,331 people were killed in car crashes that involved distracted driving in 2011. Cell phone use was indicated as a contributing factor in 12 percent of the fatal distracted driving crashes. Other data suggest an estimated 393,355 people were injured in distracted driving crashes in 2011, the Insurance Institute for Highway Safety says.
The New York Division of Motor Vehicles says "driver inattention / distraction" contributed to 49,917 car crashes in New York in 2011, including 854 in Broome County (Binghamton).
Despite laws that make texting while driving and the use of handheld cell phones behind the wheel illegal, distracted drivers persist in this recklessness. If you or a family member has been seriously injured in a car accident caused by distracted driving, Scott C. Gottlieb, Injury Law Attorney, can work with you to obtain justice. Our car accident lawyer has helped clients in Binghamton and throughout New York. We Will Fight For You!
Call our 24-hour answering service at (607) 235-2754 or submit our online contact form today to set up a free review of your case.

The National Highway Traffic Safety Administration (NHTSA) defines distracted driving as "any activity that could divert a person's attention away from the primary task of driving." This includes:
Using a cell phone or smartphone.
Watching a video.
Adjusting a radio, CD player or iPod.
Using a GPS navigation system.
Reading, including maps.
Talking to passengers.
Tending to children.
Eating and drinking.
Grooming.
NHTSA says that "because text messaging requires visual, manual and cognitive attention from the driver, it is by far the most alarming distraction."
A study by the Virginia Tech Transportation Institute found that sending or receiving a text takes a driver's eyes from the road for an average of 4.6 seconds, the equivalent – at a speed of 55 mph – of driving the length of an entire football field blind. Text messaging creates a crash risk 23 times greater than driving while not distracted, the study reported.

Using a cell phone for talking while driving is dangerous as well, according to the study, and hands-free cell phones are not substantially safer than using a handheld phone behind the wheel.
Statistics also show that the risk of being in a crash are 3.9 time higher while sending or receiving a text message, 8.0 times higher when reaching for objects and 3.0 times higher while eating or drinking.
There are many other studies of distracted driving, all detailing the risk and/or the numerous injuries and deaths caused by distracted drivers.
The law has begun to catch up with the potentially deadly practice of texting while driving and cellphone use behind the wheel. New York is among 41 U.S. jurisdictions that ban text messaging by all drivers. New York and 10 other states also prohibit all drivers from using handheld cell phones while driving.
If you or a loved one has suffered serious injuries in a car accident in Binghamton or anywhere in New York, and you believe distracted driving played a role, contact Scott C. Gottlieb, Injury Law Attorney, today for a free review of your case. You may be eligible for compensation to help you with medical expenses, property damage and other losses.
Our car accident lawyer and investigators can thoroughly examine your crash. If the evidence shows that another driver caused your serious injuries, we can, with the help of accident reconstruction and economic experts, develop a convincing case that shows what happened and the compensation you are due. Then we will be ready to negotiate with insurance companies or go to court to get you the maximum compensation you are entitled to recover.
Call our 24-hour answering service at (607) 235-2754 or submit our online contact form today to set up a free, no-obligation meeting to review your case.
Sources: