Monthly Archives: July 2016
New Safety Features on Semi Trucks Could Improve Highway Safety
While many of us appreciate the crucial role the trucking industry plays in delivering the products we use on a daily basis, encountering these big rigs while on the road puts many drivers on the defensive. Being sandwiched between two...
How Much Is My Dog Bite Claim Worth?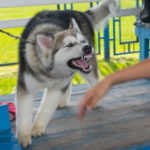 More than 4.5 million people in the United States are bitten by dogs every year, according to statistics provided by the American Veterinary Medical Association. These attacks can range from mild to deadly and should all be taken seriously. Because...