New York Nursing Homes Fined for Patient Abuse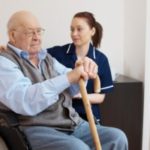 Every day someone in a nursing home is victimized by elder care abuse in New York.
Elder care abuse occurs when residents are physically harmed, financially exploited or emotionally demeaned. To make matters worse, the staff sometimes fails to respond quickly and appropriately in an emergency, which is abuse in the form of neglect.
Recently, two different New York nursing homes were fined thousands of dollars by state health officials for exactly these types of violations.
A nursing home in Hastings agreed to pay a $12,000 fine to settle charges that staff members mistakenly failed to intervene when a patient suffered a fatal heart attack two years ago.
A nursing home in Haverstraw agreed to a $16,000 settlement to resolve a series of charges, including that it failed to investigate allegations of patients' abuse by staffers.
These two actions were reported May 13 by the Long Term Care Community Coalition, which released data on the sanctions against 18 New York nursing homes in the first quarter of 2013.
The sanctions included 11 fines and seven corrective or punitive actions statewide.
Four Leading Types of Elder Abuse
In the Hastings case, state inspectors found that the facility had not properly trained its staff on do-not-resuscitate procedures, which became a problem in 2011 when a patient experienced cardiac arrest. The patient did not have a do-not-resuscitate order, but the staff believed there was one. As a result, nothing was done to save his life, and the patient died.
The Haverstraw facility was fined for violations uncovered during a 2011 inspection, including:
Failure to properly respond to six patient abuse claims;
Failure to fully investigate or take preventive measures after some patients repeatedly fell;
Failure to protect the dignity of patients at meal times.
There were 5.9 million cases of elder abuse reported nationwide in 2010, according to the National Center on Elder Abuse. This represents 9.5 percent of the elderly population.
The median age of elder abuse victims is 78, and a large majority of them are women.
The most common complaints are (1) patient neglect (59 percent), (2) physical abuse (16 percent), (3) financial exploitation (12 percent) and (4) emotional abuse (7 percent).
People who are injured or die as a result of nursing home neglect may have the right to file a New York wrongful death lawsuit or personal injury lawsuit.
Sources: