Workers in Niagara Falls Find Themselves in Dangerous Hole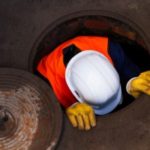 Trenching and excavation activities cause workplace deaths in New York each year.
A case in point: safety officials have cited a Depew contracting company for endangering its workers at a Niagara Falls excavation site.
In March, inspectors from the Occupational Safety and Health Administration (OSHA) discovered dangerous conditions at a water main project in Niagara Falls. The 7-foot-deep ditch had more than half a foot of water on the bottom, and its walls were inadequately braced to prevent cave-ins. There was also a lack of escape ladders.
"An unprotected excavation can turn into a grave in seconds, crushing and burying workers beneath tons of soil before they have an opportunity to react or escape," said Arthur Dube, OSHA's area director in Buffalo in a news release. "These workers were fortunate—not lucky, because workplace safety must never be dependent on luck—that they were not injured or killed."
This is from the OSHA release:
OSHA found workers in a 7-foot deep vertical-walled excavation that lacked protection to prevent wall cave-ins, and a ladder every 25 feet to facilitate a swift and safe exit from the excavation. Moreover, 8 inches of water accumulated in the excavation's bottom, increasing the likelihood of a collapse.
OSHA issued a willful citation, with a fine of $70,000, for the unprotected excavation. Two serious citations, with $14,000 in fines, were issued for the water and ladder hazards.
Because of these and other workplace safety violations, the contractor on the Niagara Falls project faces $84,000 in proposed fines, in addition to other penalties.
Ways to Protect New York Construction Workers
One in five jobsite fatalities in New York and nationally occur on construction sites each year. Many of these deaths occur in trenching and digging accidents.
Here are ways employers can keep their workers safe:
Make sure all machinery and equipment are in good working condition;
Train workers how to handle toxic materials properly;
Keep work sites clean and free of debris;
Conduct regular safety compliance inspections;
Coordinate job safety;
Comply with OSHA safety regulations;
Warn workers of any hazards;
Provide all necessary protective equipment.
Unfortunately, not every company chooses to comply with those standards, resulting in thousands of New York construction accidents each year.
Sources: