Workers Exposed to Asbestos Danger at Construction Site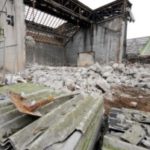 It is widely known that exposure to asbestos-containing materials can cause fatal illnesses to workers in New York and elsewhere.
That's why a report that a Rochester hospital put workers in danger during a recent demolition project was so disturbing.
The hospital hired a contractor to demolish and renovate a portion of its facility. Before the work began, however, the hospital did not determine the presence, location and quantity of asbestos-containing materials in the work area, according to the Occupational Safety and Health Administration. It also failed to label asbestos materials and post warning signs, OSHA said after inspectors from that agency visited the site in April.
OSHA cited the hospital and the contractor for 14 serious violations of workplace safety and health standards, chiefly involving asbestos. The companies face a combined total of $53,200 in proposed fines.
"This is a situation that could have been avoided if the proper protective steps had been taken at the onset of the job," said OSHA's Buffalo area director in a news release. "In failing to do so, both employers put workers at risk of asbestos exposure."
Job Risks to Workers
Following are some of the dangers the agency identified at the construction site:
Failure to provide proper asbestos exposure monitoring;
Failure to implement adequate engineering and work practice controls to limit exposure levels;
Inadequate training of workers on asbestos risks;
Lack of a respiratory protection program and other protective measures.
There was a "substantial probability that death or serious physical harm could result" from some of the violations, according to OSHA.
Under the Occupational Safety and Health Act of 1970, employers must provide safe and healthy workplaces for their employees. OSHA enforces safety standards through inspections, training and education.
Have you or someone you love been injured because of a dangerous condition on the job? A Binghamton injury law attorney will evaluate your case for free.
Source: