Winter Is Here: Six Simple & Effective Tips To Avoid Car Accidents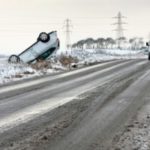 Winter in New York can be treacherous; that's just a simple truth. Frost, snow, sleet and ice can make driving a real challenge and result in accidents. Even if you're a careful driver, others may not be, and there's often very little you can do to stay out of their way when wintry conditions are present. Here are six simple, but effective, tips to avoid car accidents this winter:
Avoid brake pumping. Pumping the brakes can result in skidding and sliding on slippery roads. Instead of pumping, tap your brakes to avoid your wheels from locking up so that you can stay on the road – instead of on the side of it.
Use your headlights during the day. While some cars have headlights that stay on during the day, many others do not. If your car is in the latter category, turning your headlights on simply makes your car more visible to others during bad weather.
Use caution on bridges. Everyone has seen signs warning that "bridges freeze before roads." However, we often read the sign without actually heeding that warning. Here's the thing – bridges really do freeze before roads, so use caution, keep your distance from other cars and avoid slamming on your brakes.
Keep your distance. Traveling too close to other vehicles increases the chances of getting into an accident – especially in bad weather that can affect your ability to stop. Keep your distance and stay several car lengths behind the vehicle in front of you.
Play defense. Learning to be a defensive driver is a skill that many people never master. Even if you think you're a defensive driver, it's important to realize that every car handles differently. So, if you're driving a different vehicle than you did last winter, take a few minutes to get your bearings and find out how your vehicle handles road conditions. The best place to do that? An empty parking lot.
Be Prepared. There are a few simple things you can do to be prepared without having to "think" about them every day. Some of those include programming your cell phone with emergency contacts, Triple AAA numbers (even if you don't carry your card) and the number of a local tow truck company. Also consider equipping your trunk with a few orange cones, emergency flares and other safety devices to avoid being hit if your vehicle has died and you're in an area where other cars can't see you.
All of the above are practical tips to avoid getting into an accident – especially if you live in the certain areas of New York that are prone to heavy winter snowfall including Binghamton, Elmira, Rochester, Syracuse & Watertown areas of Broome County, Tioga County, Chenango County, Delaware County, Cortland County, Tompkins County, Vestal, Johnson City, Endicott and Endwell. That being said…
Accidents Happen
The bottom line is that accidents happen even when you're being as careful as possible. When they do, you and your family's lives can be turned upside down – especially when the person injured was a significant contributor to the family, either financially, emotionally – or both.
Regardless of who your accident occurs, rest assured that you'll be dealing with insurance companies who will not have your best interests at heart. Level the playing field by contacting an aggressive car accident lawyer who understands how insurance companies operate and the practices they sometimes use to deny claim, delay claims or offer unfair insurance settlements that don't even begin to cover your losses.