Walking While Impaired is Risky in New York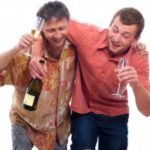 We all know that drinking and driving is a good way to be injured or killed in a New York car accident.
But did you know that drinking while walking can be just as deadly?
More than one in three pedestrians who were killed in traffic collisions in 2011 were legally impaired at the time, according to national statistics.
Often the victims were walking home from a party, bar or other place where they had been consuming alcohol.
In fact, you are more likely to die while walking drunk than driving drunk. Every mile walked drunk is eight times more dangerous than a mile driven drunk.
Of course, these figures – which come from the National Highway Traffic Safety Administration (NHTSA) – should be placed in the proper context. For one thing, there is no national database on drunk walking. For another, a car can travel much farther than a person.
And most importantly, a drunk pedestrian is far less likely to injure or kill someone else than a drunk driver.
Still, these drunk pedestrian death statistics are sobering.
More Than 4,000 U.S. Pedestrian Deaths in 2011
A total of 4,432 people were killed while walking in 2011, the most recent year numbers are available. This was up three percent from 2010.
Thirty-five percent of those killed had blood alcohol content levels of .08 or higher, says the NHTSA. That adds up to 1,547 pedestrians who were legally intoxicated at the time of their deaths. Broken down by age group, half of those between 25 to 34 were drunk.
U.S. Transportation Secretary Anthony Foxx, released the statistics at a press conference recently, using the occasion to unveil a nationwide push to reduce the number of walkers who die on roads, streets and highways.
Foxx said that an emphasis will be on warning people of the dangers of drunk walking.
Some safety officials say the rise in drunk pedestrian deaths is an unintended consequence of anti-drunk driving campaigns, which often advise people to walk home and not get behind the wheel if they have been drinking.
Distracted Walking Is Hazardous To Your Health
Being intoxicated is only one form of distracted walking. Here are some others:
Talking on a cell phone
Using a mobile device
Eating
Reading
Listening to music, especially through ear buds
Making poor decisions at intersections, like crossing against a light or trying to beat an oncoming car
Chatting or playing with friends
Not paying adequate attention
Some days are more dangerous for walkers than other. The deadliest day of the year is January 1, which historically sees a spike in pedestrian fatalities. Close to 60 percent of pedestrians who die on New Year's Day have been drinking.
Source: