Walkers in New York Face Traffic Dangers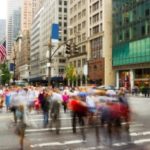 Every two hours a pedestrian is killed in a traffic accident in New York or some other state, according to national statistics.
And every eight minutes a pedestrian is injured.
New York City – with its throngs of tourists, crowded sidewalks and congested streets – is an especially dangerous place for walkers.
Because of this, NYC has been targeted as one of 28 high-risk focus cities in a new "Everyone is a Pedestrian" safety effort by the Federal Highway Administration.
New York City made the list because it has more than 20 annual pedestrian fatalities and a pedestrian fatality rate greater than 2.33 per 100,000 population, which is the national average.
Pedestrian Deaths in New York
In recent years, traffic deaths in most categories have been declining. But pedestrians are one of the few groups of road users who are being injured and killed in increasing numbers.
Here are some facts:
There were 4,432 pedestrian deaths in the U.S. in 2011.
Pedestrians accounted for 52 percent of traffic fatalities from 2005-2009.
Seniors and young people are at special risk.
Driver inattention is responsible for nearly 36 percent of crashes where a pedestrian is killed or seriously injured.
A comprehensive safety effort must involve parents, educators, law enforcement, city officials and traffic experts.
Free info and webinars are available from the National Highway Institute.
Wrongful Death Damages in New York Pedestrian Lawsuits
The relatives of someone killed in a pedestrian accident in New York may have the right to recover damages by way of a wrongful death lawsuit.
Compensation will vary from case to case.
Damages may include:
Lost future wages that the decedent would have earned
Medical expenses
Funeral and burial expenses
Pain and suffering
Property damage
Loss of future services to spouse
Loss of advice and guidance to children.
Contact a Binghamton wrongful death attorney to learn more.
Sources: