Unmarked New York Police Cars Target Texting Drivers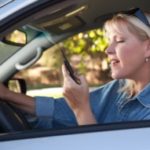 The New York State Police are cracking down on distracted driving in Buffalo. Close to $1 million is being funneled into a summer law enforcement push to catch – and convict – motorists who are texting behind the wheel. The campaign, which kicked off July 4, will focus on stepped-up patrols, particularly through undercover operations using unmarked State Police SUVs. "Texting-while-driving is a dangerous practice that will not to be tolerated on New York's roads and highways," Governor Cuomo said in a news release. "Enhancing the enforcement of our laws will ensure that New York State remains a safe place for drivers this summer and beyond."
This new effort follows a pair of initiatives unveiled earlier this year:
Increasing the penalty for distracted driving from three to five driver's license points;
Hiking license suspension and revocation periods for young drivers caught texting-while-driving.
Kelly Cline, a mother from West Seneca, New York who lost her son in a texting-while-driving accident, joined the governor at a press conference announcing the new measure. "We all fought hard for the No-Texting-While-Driving law, and I am thrilled that the governor continues to improve and strengthen it," she said in the release.
One in Five New York Crashes Caused by Texting-While-Driving
Undercover patrols have been effective at identifying and ticketing motorists who are texting-while-driving. State Police will use Concealed Identity Traffic Enforcement (CITE) vehicles built with higher than average platforms, so that officers can see into cars more easily. CITE vehicles are unmarked and come in different colors to blend in with traffic. "Our top priority is keeping motorists and pedestrians safe on New York's roadways," said Patricia Groeber, State Police Deputy Superintendent Field Commander in the news release. "These vehicles will be an effective law enforcement tool in identifying drivers who are illegally using hand held devices." In New York State, one in five crashes is caused by distracted driving. In 2012, there were more than 30,000 tickets issued statewide for texting while driving. That was a 234 percent increase from 2011. A New York injury attorney can provide important advice for anyone who has been in an accident involving a distracted driver.
Source: