Turkey in Road Sends 4 To Hospital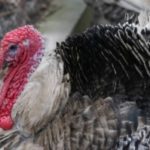 Car crashes in New York sometimes happen when animals – typically dogs or deer – dart onto the road and into a driver's path.
But recently in Ulster County, it was a turkey that caused a four-car pileup and sent four people to the hospital.
The incident occurred in Wawarsing, when a 71-year-old motorist stopped to grant passage to the gobbler and was rear-ended by a minivan. This triggered a chain of collisions.
The following is from a news report:
The sheriff's office tells the newspaper that [the driver] had stopped her Toyota to allow a turkey to cross when she was struck from behind by a minivan.
[Her] car was pushed into the opposite lane of traffic and hit a Ford. Authorities say [her] car then spun around and hit a Volkswagen. The driver of the Ford was airlifted to Westchester Medical Center to be treated for head injuries. Four other people were hospitalized.
Animals in the road are a common contributing factor in automobile accidents in New York. It can be difficult to determine whether a driver who hits an animal – or who brakes suddenly or swerves to avoid an animal, causing a collision with another vehicle – is legally responsible for any damages that result.
Liability may depend on the answers to the following questions:
Was the driver exercising due care?
Was the driver speeding?
Was the driver sleepy, distracted or under the influence of drugs or alcohol?
Could the collision have been avoided if the driver was paying closer attention?
Were there warning signs of animals on the road?
Was the area known for having wildlife on the road?
Motorists who are in a collision involving an animal in the road are advised to consult an experienced New York car accident attorney to protect their legal rights.
Sources: