Top 10 Deadly Streets For New York Pedestrians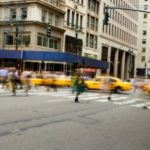 The Hempstead Turnpike and Downtown Broadway are two of the deadliest places for people to walk in New York State.
That's according to a three-year study of fatal pedestrian accidents by the Tri-State Transportation Campaign.
Approximately 1,200 people died from 2007 to 2009 while walking, jogging and crossing streets in the greater tri-state area covering New Jersey, downstate New York, and Connecticut, the survey found.
The region's most dangerous road for pedestrians for all three years was the Hempstead Turnpike in Nassau County, where 12 pedestrians died. Most of the fatalities occurred where the road passes through Elmont, Franklin Square and Hempstead.
"Too many lives are being tragically and senselessly cut short on the Hempstead Turnpike," said Ryan Lynch, Senior Planner with the Transportation Campaign in a public statement. "We need to fix this road."
Broadway, in Manhattan, ranked second on the list with 11 pedestrians killed in motor vehicle accidents. All but one of those fatalities occurred in northern Manhattan. No pedestrians were killed along parts of the road that have been closed to automobile traffic under the New York City Department of Transportation's popular Green Light for Midtown project.
"Our analysis shows that pedestrians are most at risk on either major suburban thoroughfares designed exclusively for fast-moving car traffic but lined with retail destinations, or extremely busy bi-directional urban roads," said Michelle Ernst, report author and staff analyst with the Transportation Campaign.
Top 10 Deadly Roads for Walking
State Route 25 (Hempstead Turnpike/Conklin Street), Nassau NY – 12 pedestrian deaths
Downtown Broadway, Manhattan NY – 11 deaths
US-130 (Burlington Pike), Burlington NJ – 10 deaths
State Route 27 (Sunrise Highway), Suffolk NJ – 9 deaths
Atlantic Avenue, Brooklyn NY – 8 deaths
7th Avenue, Manhattan NY – 8 deaths
Henry Hudson Parkway/West Street, Manhattan NY – 8 deaths
US-322/40 (Blackhorse Pike/Albany Avenue), Atlantic NJ – 7 deaths
US-1, Middlesex NJ – 7 deaths
Route 549, Ocean NJ – 7 deaths
Sources: