Ten Things to Know About Sports-Related Concussions and Youth TBI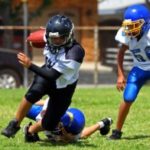 Each year, there are more than 2 million sports-related brain injuries in New York and nationally.
Many of these victims are young people who may have to cope with the effects of a traumatic brain injury – or TBI – all their lives.
In response, doctors nationwide are studying the problem and exploring new treatments, according to the New York Times. Youth sports concussion clinics are popping up across the country, the paper reports. These specialized facilities not only treat patients, but they also gather and analyze data.
Soccer players can suffer a TBI when they are hit in the head by a kicked ball at close range, especially if the blow is from the side or the rear.Their work is already bearing fruit. Researchers have discovered, for instance, that many concussions are caused by an impact that the young athlete did not see coming. It is not just blindside hits in football. It can also be a collision in which only one party is braced, as in sports like hockey or lacrosse that allow checking.
"As coaches always say, 'Keep your head on a swivel so you know what's going on around you,' " Dr. Michael O'Brien at Boston Children's Hospital said in the Times article. "It might be good advice for a lot of reasons."
Another finding: females are suffering more concussions – and those numbers are rising. Forty-one percent of new concussion patients are females. Experts believe that this is because their sports are getting rougher and because their necks are thinner and less muscular.
The most dangerous sports for female concussions are soccer, ice hockey, field hockey, gymnastics, cheerleading and basketball.
Ten Things to Know About Youth Concussions and TBI
Concussions can result from getting elbowed in the head, running into a goal post or from head-to-head contact.
Year-round sports schedules and elite teams mean young people are playing more games – and at a higher level – than ever before.
Specialized training and weight-lifting are producing young athletes who are bigger, faster and stronger.
Helmets, mouth guards and headbands – while important – do not prevent concussions.
It is possible that multiple concussions in a short period of time can lead to long-term or even permanent brain damage.
TBI is the leading cause of death and disability in children and adults aged 1 to 44.
Around 52,000 people die each year from a TBI.
An estimated 1.5 million people – many of them children – are rushed to U.S. emergency rooms each year for TBI.
Youth head injuries also occur by falls at home or on the playground.
Motor vehicle accidents in New York are a leading cause of TBI.
Sources: