Ten Safety Tips for Driving in New York Work Zones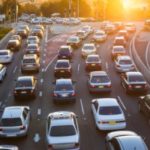 Highway construction season is in full swing, which means auto accidents in New York State will likely be going up.
Last year, there were 460 traffic accidents in construction work zones on state roads and bridges and 52 accidents in maintenance work zones on state highways, according to the New York Department of Transportation.
Those wrecks resulted in 18 fatalities – all motorists – and 134 injuries to motorists, contractor employees and roadway workers.
"As the highway construction season begins, we remind drivers to obey speed limits, stay in your designated lanes and be attentive to workers and equipment in work zones, said New York State Police Superintendent Joseph A. D'Amico in a news release.
One major project this summer is the $134.6 million Prospect Mountain reconstruction of the convergence of State Route 17 and Interstate 81 with nearby I-88. This massive undertaking – which is entering its second year and is scheduled for completion in December 2015 – covers an eight-mile section of Route 17 and includes building eight new bridges.
This interchange was designed in the mid-1960s to handle 35,000 vehicles per day and now averages twice that number of cars and trucks.
"We all have to remember to slow down and be alert while driving through work zones like Prospect Mountain," said state Senator Tom Libous in the release. "Lives depend on it."
Ten Safety Tips for Driving in New York Work Zones
Expect the unexpected. In any work zone, normal speed limits may be reduced, traffic lanes may be changed, and people and vehicles may be working on or near the road.
Read the signs. Diamond-shaped orange warning signs are posted in advance of road construction projects.
Remember that a flagger has the same authority as a regulatory sign. Obey the flagger's directions. You can be cited for not doing so.
Stay calm. Don't lose your patience or temper.
Merge as soon as possible. Don't zoom right up to the lane closure and try to barge in. Begin merging the instant you see the sign or signal telling you to do so.
Slow down. A car traveling 60 miles per hour travels 88 feet per second. If you are going 60 mph and you pass a sign that says "Road Work 1500 feet," you will be in that work zone in 17 seconds.
Leave two seconds of braking distance between you and the car in front of you. The most common crash in a highway work zone is a rear-end collision.
Keep a safe distance. Make space between vehicle and traffic barriers, trucks, construction equipment and workers.
Know when you've left the work zone. Some work zones, such as for line painting, road patching and mowing are mobile. They move down the road as work is finished. Just because you do not see the workers immediately after you see the warning signs does not mean they are not present.
Plan ahead. Try an alternate route. A detour can reduce the risk of a New York motor vehicle crash.
Source: