Speeding Often Cause of Traffic Deaths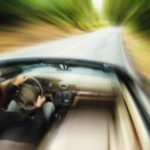 Speeding drivers are involved in almost one out of three fatal New York car crashes.
In 2011, 1,169 people died in traffic crashes statewide, according to state highway statistics. In 338 of these collisions, at least one driver was going too fast.
Speeding claimed the lives of two men June 8 in Oneida County. The victims were in a Chevrolet Impala that was traveling on Vienna Road after midnight, according to a New York State Police report. The 20-year-old driver attempted a right turn but was going too fast and lost control of the car. The Impala ran off the road, struck a tree, overturned and burst into flames.
Both the driver and a 21-year old passenger were trapped inside the burning car. A third occupant managed to escape and call for help. By the time an emergency crew from the Village of Sylvan Beach arrived and extinguished the fire, the two men were dead.
Speed in New York Car Crashes
Speeding is one of the most common contributing factors of traffic crashes.
Here are some speeding facts from the National Highway Traffic Safety Administration:
There are two different types of speeding errors: exceeding the posted speed limit (EPSL) and driving too fast for conditions (DTFFC).
About 55 percent of all speeding-related crashes in which someone is killed are the result of EPSL. Forty-five percent of fatal speeding crashes are due to DTFFC.
In speeding-related crashes that resulted in one or more injuries, about 26 percent of the crashes were due to EPSL as compared to 74 percent due to DTFFC.
In speeding-related property-damage-only crashes, about 18 percent were due to EPSL and 82 percent were due to DTFFC.
The percentage of crashes nationwide that are speeding-related varies among the states, from about 6 percent to about 20 percent.
Environmental factors that affect safe speed include traffic volume, the presence of pedestrians, weather conditions and road quality
If you have been hurt in a New York accident involving a speeding driver, you are entitled to a free consultation with a Binghamton car accident attorney.
Sources: