Six Teachers Trapped in Van After Madison County Intersection Crash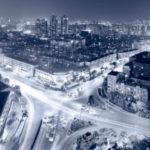 A total of 465 people were killed in intersection wrecks in New York State during 2011.
Hundreds more were injured or disabled.
There was a frightening intersection crash in Madison County on June 26 involving a minivan filled with teachers on their way to an educational conference.
The van ran a stop sign at a four-way intersection in Smithfield and collided with a New York State Department of Transportation dump truck. The truck swerved but was unsuccessful in avoiding the collision. Both vehicles left the roadway and overturned.
It was reported that six teachers were trapped in the van and could be removed only after the roof was cut off. The driver was airlifted to a Syracuse hospital in serious condition with a femur fracture and head injury.
Nine people were injured in the crash overall.
Troopers told reporters that they ticketed the driver of the van for failure to yield the right of way at a stop sign.
Seven Common Types of New York Intersections
There are different types of intersections – and different driving rules for each type.
Here are some common intersections in New York State:
3-way intersection. This is a junction between three road segments to form a T or Y shape.
4-way intersections. These are usually a crossing-over of two streets or roads in a perpendicular fashion, although they may cross at different angles.
Signal-controlled intersections. These depend on traffic signals, usually electric, to indicate which cars are to proceed at any particular time.
Uncontrolled intersections. These have no signs or signals. Right-of-way rules depend on the locality and on any warning signs that are present.
Yield-controlled intersections. These may or may not have specific Yield signs.
Stop-controlled intersections. These have one or more Stop signs. Two-way stops are most common, although sometimes there are four-way stops.
Traffic circle. This is a type of intersection where traffic streams are directed around a circle. Variations include roundabouts, mini-roundabouts and rotaries. Stop signs or signals are sometimes present.
In some intersection collisions it can be difficult to determine which driver was legally at fault.
A New York auto accident attorney can provide a free legal evaluation of your case.
Sources: