Seat Belts Save Couple in Fiery Brooklyn Crash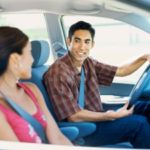 Seat belts reduce the risk of serious injury or death in New York auto accidents by up to 50 percent, according to the Centers for Disease Control and Prevention.
Buckling up – and making sure your passengers are also buckled – is one of the best ways to protect yourself and your loved ones.
Just ask a Brooklyn couple who recently survived a fiery crash because they were using their seat belts. In the early morning hours of April 2, their Ford Expedition skidded on an icy stretch of highway near the Verrazano Bridge, rolled over and burst into flames.
This is from the New York Daily News:
[The driver] was driving eastbound with his wife … in the snowy darkness when their 1999 Ford Expedition hit a frozen patch near an entrance ramp to the Brooklyn-Staten Island span.
According to cops, the vehicle skidded wildly, flipped onto its roof and scraped along the top of the guardrail — where the SUV suddenly exploded into flames.
Firefighters rushing to the site of the blazing wreck were stunned to learn that anyone inside the car had walked away alive.
But seatbelts and airbags apparently saved the Bensonhurst couple from making their final exit, and both managed to wriggle free from the burning vehicle.
The couple was picked up by a passing yellow cab and watched as firefighters battled their flaming SUV. They apparently received only minor injuries but were taken to a hospital as a precautionary measure.
The police said the icy conditions – and not alcohol or some other reason – caused the wreck.
Just two minutes before the wreck, a Staten Island woman survived a similar spin out, according to the Daily News. Her car slammed into a guardrail but she escaped without injury.
Sources: