Safety Pointers for Multi-Passenger Vans in New York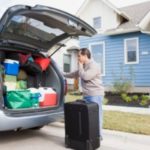 As the summer driving season nears, New York motorists who use multi-passenger vans for group outings should be aware of the risk of a rollover crash.
The National Highway Traffic Safety Administration (NHTSA) has gone so far as to issue a Safety Alert reminding users to take proper precautions before getting behind the wheel of a 15-passenger van.
Among the most important steps: don't overload the van, and make sure all passengers are buckled up.
The vast majority – 88 percent – of people killed in rollover crashes of 15-passenger vans were not wearing their seat belts.
This is from the NHTSA news alert:
NHTSA research shows there is a greater risk of rollover because many drivers lack experience driving the larger vehicles. Because 15-passenger vans handle quite differently than smaller passenger vehicles due to their increased length and width, NHTSA recommends only experienced drivers familiar with their handling should operate them.
Improperly inflated tires are another common contributor to rollover crashes. A recent NHTSA survey estimates that 30 percent of 15-passenger vans have at least one significantly under-inflated tire by 8 psi or more. Tire pressure can vary on front and back tires that are used for 15-passenger vans. This is why the agency urges vehicle users to make certain the vans have appropriately-sized and load-rated tires that are properly inflated before every trip.
Safety Tips for Driving 15-Passenger Vans
Don't use spare tires as replacements for worn tires. Many tire manufacturers recommend that tires older than 10 years not be used at all.
Never overload the van. Overloading increases the rollover risk and makes the vehicle harder to handle.
Make sure the van is in good operating condition. In addition, drivers should be properly licensed and experienced in operating the vehicle.
See that the van has been properly inspected. Suspension and steering components should comply with the manufacturer's safety recommendations.
Make sure the van is equipped with properly sized and load-rated tires. Proper tire size and inflation pressure information can be found in the owner's manual and on the door pillar. Damaged tires can lead to a New York road wreck.
For more information: