Pedestrian Severely Injured in Hit-and-Run Accident in Elmira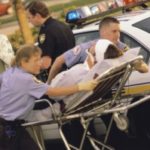 The Elmira New York police are investigating a hit-and-run accident that left a pedestrian with serious injuries. Car accidents involving pedestrians often result in death or serious injury – and costly medical bills. In fact, according to the Centers for Disease Control and Prevention (CDC), over 4,200 people were killed in pedestrian accidents in 2010 and another 70,000 were injured.
Elmira Police Department Seeking Witnesses
According to WBNG Action News 12, the Elmira Police Department responded to a report of a car accident involving a pedestrian on March 17th at the corner of North Main Street and West Second Street in Elmira. The pedestrian involved suffered serious injuries, was treated by the Elmira Fire Department and Erway Ambulance and then transported to a hospital for further treatment.
Although the driver of the car involved in the accident did not stop, police identified a suspect and arrested him shortly after the accident. The investigation is continuing and the Elmira Police Department is requesting anyone with additional information to contact the Traffic Bureau at (607) 737-5640, or the Detective Bureau at (607) 737-5610 or (607) 271-HALT.
CDC Says There Is One Crash-Related Pedestrian Death Every Two Hours
According to the National Traffic Safety Administration, 297 pedestrians were killed in traffic crashes in New York in 2012.
The Centers for Disease Control says that a pedestrian dies in a traffic accident every two hours and pedestrians are 1.5 times more likely than passenger vehicle occupants to be killed in a car crash on each trip. The CDC provided the following statistics:
Age. Nearly one in every five children between the ages of 5 and 9 who were killed in traffic crashes was a pedestrian. Pedestrians ages 65 and older accounted for 19% of all pedestrian deaths and an estimated 11% of all pedestrians injured.
Drunk Drivers / Walkers. Alcohol-impairment, either for the driver or for the pedestrian, was reported in 47% of the traffic crashes that resulted in pedestrian death. A third of those had blood alcohol concentration (BAC) levels over the legal limit.
Speeding. Higher vehicle speeds increase both the likelihood of a pedestrian being struck by a car and the severity of injury.
The CDC says that most pedestrian deaths occur in urban areas, non-intersection locations and at night. However, pedestrians can take steps to prevent injuries and deaths from motor vehicle crashes such as carrying a flashlight or wearing reflective clothing at night, using crosswalks and facing oncoming traffic when sidewalks are not available.
Pedestrian Accidents Frequently Result In Death or Serious Injury
Many car accidents involving pedestrians leave victims with traumatic brain injuries (TBIs), spinal cord injuries, broken bones, permanent disabilities and may require substantial rehabilitation.
Any serious personal injury can result in expensive medical bills, lost income and a great deal of physical – and emotional – pain and suffering and victims may be entitled to compensation to help recover.