Operation Hard Hat in Effect for New York Work Zones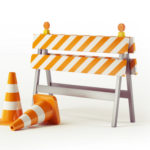 Summer is road construction time – which usually means a rise in New York auto accidents.
Operation Hard Hat is trying to do something about that.
Under Operation Hard Hat – a joint push by the state Department of Transportation, the State Police and the New York Thruway – state troopers are posted inconspicuously in work zones to nab drivers who are breaking the law. A marked State Police cruiser (known as the "chase car") is notified by radio of any violations and takes off after the offending motorist.
Troopers participating in Operation Hard Hat may be on foot, in a construction vehicle or in an area not immediately obvious to motorists. Signs warn approaching motorists that the speed limit is radar-enforced and remind them to slow down in the work area.
Crashes in work zones are often caused by speeding and aggressive driving. The key to safe travel through these areas is to be alert, slow down and drive cautiously.
Eight New York Work Zone Safety Tips
Avoid work zones if possible. Use alternate routes. If you can't avoid work zones, allow for more time to travel, slow down and consider sharing a ride to reduce congestion.
Take cues from trucks. Work zones often pop up suddenly. Trucks are great indicators of work zones or slowdowns. They have a height advantage and can spot trouble ahead.
Merge gently. When you see a flashing arrow panel or a "Lane Closed Ahead" sign, merge as soon as possible. Don't wait until the last second and try to barge in. This causes crashes.
Expect the unexpected. Normal speed limits may be changed in work zones. Traffic may be coming from different directions.
Watch the signs. In New York, diamond-shaped orange warning signs are posted in advance of road construction projects.
Obey flaggers. The flagger has the same regulatory authority as a sign. Follow the directions you are given.
Don't tailgate. The most common work zone accident is a rear-end collision. Allow plenty of braking time between your car and the one in front.
Get legal help. Contact a New York car accident attorney if you have been in a work zone crash.
Sources: