Nursing Home Abuser Charged With Assault & Neglect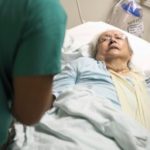 Nursing homes and nursing home employees are supposed to provide the highest care possible to all patients – and most facilities claim to do just that in their brochures and when you visit them in person.
However, as our nation becomes older due to more and more baby boomers who need this type of care, instances of nursing home abuse and neglect are making their way into news headlines. The latest involves a nursing home employee who was recently charged with assault and neglect.
Employee Seen Covering Patient's Face with Pillow
According to WNEP News Station 16, a 27-year-old woman who worked at the Guardian Elder Care Center near Nanticoke outside of Wilkes Barre, PA, was responsible for taking care of an elderly dementia patient. The patient alleged that the caregiver grabbed her arms, bruised her, stole her personal items and covered her face with a pillow. Although the patient suffers from dementia, her doctors have said that she is still able to accurately identify the workers and describe what happened.
The worker denied the accusations and told police that the patient tried to bite and punch her. She admitted that she held down the patient's arms to protect herself, but denied covering her face with the pillow. However, another employee at the facility came forward and told police that worker had indeed held the pillow over the patient's face. The worker has been charged with assault and neglect. Sadly, many instances of nursing home abuse and neglect do not get reported.
Elder Abuse & Neglect Warning Signs
According to the Department of Health & Human Service's National Center on Elder Abuse, there are several indicators that may be causes for concern when it comes to elder care abuse and neglect, such as:
Bruises, pressure marks, broken bones, abrasions, and burns may be an indication of physical abuse, neglect, or mistreatment.
Unexplained withdrawal from normal activities, a sudden change in alertness, and unusual depression may be indicators of emotional abuse.
Bruises around the breasts or genital area can occur from sexual abuse.
Sudden changes in financial situations may be the result of exploitation.
Bedsores, unattended medical needs, poor hygiene, and unusual weight loss are indicators of possible neglect.
Behavior such as belittling, threats, and other uses of power and control by spouses are indicators of verbal or emotional abuse.
Tense or strained relationships, frequent arguments between the caregiver and elderly person are also signs of potential abuse and neglect, making it important for the patient's family and friends to keep alert and question staff about unusual behaviors and situations.
Nursing Home Abuse Injuries May Be Compensable
Many nursing homes are run by large corporations that are more interested in profit than in the safety of their patients – regardless of what their brochures or sales directors tell you. Too many of these facilities either don't hire enough staff to meet residents' needs or don't hired skilled staff – so that they can save money. In some cases, residents can suffer from serious injuries and even wrongful death.
Nursing home abuse and neglect injuries may be compensable in the form of medical costs, rehabilitation, physical pain and suffering, emotional distress and more. Anyone who has been the victim of nursing home abuse should contact an experienced New York personal injury attorney to analyze their situation.