New York Tightens Laws Against Distracted Driving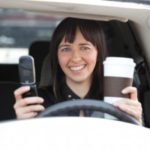 From 2005 to 2011, distracted driving crashes in New York State increased approximately 143 percent.
A large majority of these were caused by texting and talking on cell phones.
Distracted driving in general – and texting-while-driving in particular – have been called a national epidemic by federal safety officials.
In 2011, there were 25,165 distracted driving crashes in New York that caused either death or serious injury.
To fight this epidemic, Governor Andrew M. Cuomo recently announced measures to crack down on texting-while-driving in New York State.
Under the new rules:
If you are convicted of a texting-while-driving or a cell phone offense, you will now get five points on your driving record – up from three points previously.
Young drivers with probationary and junior licenses who are caught texting-while-driving will now receive the same penalty they would get for speeding or reckless driving: 60-day suspensions for first convictions and 60-day revocations (for junior licenses) or 6-month revocations (probationary licenses) for a subsequent conviction within six months after their license is restored.
The New York State Police are stepping up efforts to catch texting motorists by adding checkpoints and putting more troopers on patrol.
"Inattention and inexperience are a deadly combination – one this legislation seeks to deter," said Gov. Cuomo in a news release on the get-tough policy. "We are urging young and inexperienced drivers to keep their eyes on the road and hands on the wheel, while putting stronger penalties in place for drivers of all ages who violate the law and put others in danger."
Texting and Driving is Illegal in New York
In July 2011, New York passed a law making the use of a handheld electronic device for activities like texting-while-driving a primary traffic offense. This gave law enforcement the power to stop motorists solely for engaging in this activity.
Since the law was passed, there has been a 234 percent hike in the number of tickets issued for texting-while-driving statewide from 2011 to 2012.
Four Things to Know About Distracted Driving Wrecks
43 percent of teenage drivers admit they regularly text while driving, according to the Pediatric Academic Societies.
Sending or receiving a text takes a driver's eyes off the road for an average of 4.6 seconds.
Texting-while-driving involves all of the three main types of distraction, according to the Centers for Disease Control and Prevention: (a) Visual (taking your eyes off the road); (b) Manual (taking your hands off the wheel); and (c) Cognitive (taking your mind off what you are doing).
If you are injured in a car crash involving a distracted driver, you are entitled to a free legal consultation with a qualified New York auto accident attorney.
Source: