Nearly 900 Motorcyclists Die in New York Wrecks Over Five Years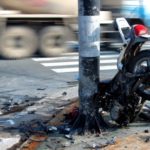 Deaths from New York motorcycle wrecks account for roughly 15 percent of all traffic fatalities statewide.
This is so even though there are far fewer motorcycles on the road than cars and trucks.
A total of 170 people were killed in motorcycle crashes in New York in 2011, according to the National Highway Traffic Safety Administration.
Many of them died because they suffered a Traumatic Brain Injury or other head trauma in the crash.
That was the story August 26, when a 21-year-old woman was killed after losing control of her motorcycle on a Brooklyn parkway.
The victim was riding a 2004 Yamaha motorcycle when it skidded and fell over onto its side, according to the New York Daily News. Preliminary reports indicated that she had struck a pothole.
She was thrown from the bike onto the roadway. She was taken to Coney Island Hospital with severe head trauma and died, the paper reported.
Biker Slams into Parked Car in Brooklyn
Two weeks earlier, a man died after losing control of his bike and slamming into a parked Honda Accord, according to the New York Daily News.
The 33-year-old victim was driving west on Jamaica Avenue when he crashed into the car around 10:30 at night. He was rushed to the emergency room but did not survive.
Motorcycle Deaths in New York
There have been 861 motorcycle fatalities statewide since 2007.
Here is the age breakdown of the 170 people who died in 2011 motorcycle wrecks:
Below 20 years old – 3 deaths
20-29 years old – 50 deaths
30-39 years old – 33 deaths
40 – 49 years old – 40 deaths
50-59 years old – 25 deaths
Over 59 years old – 19 deaths
Sources: