Two Killed in Motorcycle Crash in Pompey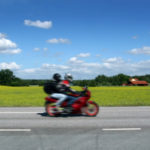 Weekends are a dangerous time for motorcycle riding in New York State.
Close to 40 percent of fatal motorcycle wrecks statewide happen on a Saturday or Sunday, the state DMV reports.
In 2011, there were 168 fatal motorcycle crashes in New York. Of that total, 61 occurred on weekends.
A pair of motorcyclists from Lafayette were killed Sunday, April 28 on Route 20, according to CNY Central.
The crash occurred around 7:30 PM near Pompey when the 44-year-old driver of a sports bike struck a guardrail and lost control of it. Both he and his 43-year-old passenger were thrown from the motorcycle and sustained fatal injuries.
Motorcycle Deaths by Day of the Week
There were 5,336 motorcycle crashes in New York in 2011, involving more than 8,000 motor vehicles.
Here is how those crashes broke down according to the day of the week on which they occurred:
Sunday. 894 total crashes; 27 fatal; 767 causing personal injury
Monday. 627 total crashes; 23 fatal; 527 causing personal injury
Tuesday. 679 total crashes; 17 fatal; 579 causing personal injury
Wednesday. 694 total crashes; 23 fatal; 595 causing personal injury
Thursday. 645 total crashes; 24 fatal; 527 causing personal injury
Friday. 785 total crashes; 20 fatal; 686 causing personal injury
Saturday.1,012 total crashes; 34 fatal; 879 causing personal injury
Approximately 45 percent of the motorcycle wrecks in New York are single-vehicle collisions. Fifty-two percent involve two vehicles – typically a motorcycle colliding with a car. Three percent were wrecks that involved three of more vehicles.
Sources:
CNY Central
http://www.cnycentral.com/news/story.aspx?list=190258&id=890949