Four Injured in New York I-81 Speeding Wreck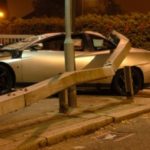 Almost one-third of all car crashes in New York State are caused by driving too fast.
These wrecks result in thousands of deaths and injuries each year.
In fact, speeding was a contributing factor in 30 percent of all fatal crashes in 2011, according to the National Highway Traffic Safety Administration (NHTSA). A total of 9,944 people's lives were lost because of excessive speed. Many times that number of lives were painfully and permanently disrupted.
Speed was the cause of a May 4 crash on I-81 near Liverpool that sent four people to the hospital, including a pregnant mother.
This is from CNY Central:
[The 21-year-old driver] was driving too fast when his car hit a concrete barrier, crashing into a tan Honda Civic. The Civic landed in a ditch off the side of the road.
The three passengers in the Civic were taken to the hospital. [The driver] was ticketed for imprudent speed, an uninsured motor vehicle, following too closely, unsafe passing, moving unsafely from the lane, and a loud exhaust.
The NHTSA estimates that the annual economic cost of speeding-related crashes is $40.4 billion.
Here are some other speeding statistics:
More than 10,000 lives are lost each year because of drivers going too fast.
Alcohol plays a role in many speed-related crashes. In 2011, 42 percent of speeding drivers involved in fatal wrecks had a blood alcohol concentration (BAC) of .08 or higher.
Young people tend to drive faster. In 2010, 39 percent of 15- to 20-year-old male drivers involved in fatal wrecks were speeding at the time of the crash.
Only half of speeding drivers under age 21 were wearing seatbelts at the time of a fatal wreck. In contrast, 73 percent of non-speeding drivers in the same age group were safely restrained.
Almost 22 percent of speeding drivers involved in fatal crashes had an invalid license, compared with 10 percent of non-speeding drivers.
Speed was a factor in more than one-third (36 percent) of fatal crashes that occurred in construction/maintenance zones in 2011.
8,577 speed-related fatalities (87 percent) occurred on state and rural roads. Only 13 percent occurred on interstate highways.
Driving too fast is especially dangerous in heavy traffic and in inclement weather. People who are injured by a speeding driver may have a right to file a New York personal injury lawsuit to recover compensation for medical expenses, lost income and pain and suffering.
Sources: