HELP Is on the Way for Stranded Motorists in New York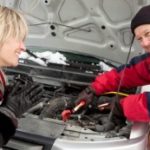 Being stranded on the highway with a disabled vehicle is no fun – and it also increases your odds of being hurt or killed in a New York traffic accident.
The state HELP program can get you off the road and out of danger.
The Highway Emergency Local Patrol provides free roadside emergency services on major roads throughout the state during peak travel times.
A fleet of 99 blue-and-white HELP trucks cover 16 patrol areas. The teams come to the aid of more than 85,000 motorists annually. That makes HELP one of the nation's largest and most successful roadway service patrols.
New York HELPs Motorists
HELP is provided free to motorists traveling on 1,485 miles of interstate roadways, parkways and expressways on Long Island, New York City, the Lower Hudson Valley, Buffalo, Rochester and the Albany Capital District.
The trucks are operated by state Department of Transportation employees or contracted to other service providers.
HELP services include:
Changing a tire
Jump-starting a battery
Repairing a radiator hose
Supplying a maximum of two gallons of gasoline
Offering the use of a cell phone to make a local call
Assisting in minor repairs
Aiding with traffic control at accident scenes
Pushing disabled cars out of traffic
To learn more – and to find out how to get HELP – go to the state web site www.nysdot.gov. There you will find information on the regions, routes and hours of HELP service.
Have you been in an auto accident involving a disabled vehicle? Get a free consultation with a Binghamton injury attorney.
Source: