Google Glass: How a Tiny Computer Screen Can Result In Distracted Driving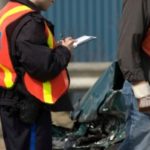 Imagine trying to drive safely while using a laptop mounted to your dashboard. Most people simply couldn't do both without getting into a car accident within seconds. However, that's exactly the buzz going on now about Google Glass, a tiny computer screen mounted in the corner of an eyeglass frame that allows wearers to be "online" – all the time.
Many states, including New York, have banned texting and handheld devices while driving. However, Google's $1,500-a-pair eyeglasses don't necessarily mean "hands-free" driving. While there is a built-in microphone that utilizes voice recognition to send messages, such as Apple's Siri and Google's Google Now apps, there is also a touch pad on the side of the glasses you can use to access information and a camera to capture activities in front of you.
Whether the tiny computer screen can result in distracted driving remains to be seen. Google is doing everything it can to prevent anti-Google Glass legislation.
Google Hiring Big Name Lobbyists to Protect Interests
According to Reuters, Google has hired numerous big name lobbyists to protect its interests. Just recently, Google hired John Borovicka, a former political director for Chicago Mayor Rahm Emanuel, to persuade Illinois State Senator Ira Silverstein, a Chicago Democrat who introduced a Google Glass restriction bill in December, to withdraw the bill.
Google may begin to hire other lobbyists to address similar legislation in states such as New York, Delaware, New Jersey, Missouri and Wyoming. It's still uncertain whether Google's tactics will be successful – especially due to an increasing number of legislators who are addressing distracted driving issues with their constituencies and who are very unlikely to be distracted by pressure from Google.
Distracted driving, in general, has nearly reached epidemic proportions in the United States. According to Distraction.gov, an estimated 173 billion texts are sent in the United States every month. How many of those texts are being sent from behind the wheel? Too many. Approximately 3,300 lives were taken in 2012 from those who engaged in distracted driving activities such as texting, emailing, surfing the web and talking on the phone.
Distraction.gov says that any type of distracted driving diverts a person's attention away from the primary task of driving – and all distractions endanger driver, passenger, and bystander safety, including:
Texting
Adjusting a radio, CD player, or MP3 player
Eating and drinking
Grooming
Reading, including maps
Talking to passengers
Using a cell phone or smartphone
Using a navigation system
Watching a video
However, text messaging is the most alarming distraction of them all, as it requires visual, manual, and cognitive attention from the driver.
Driver Inattention / Distraction Is Binghamton's Highest Contributing Accident Factor
New York State's Department of Motor Vehicles (DMV) reports that "driver inattention / distraction" contributed to 49,917 car crashes in New York in 2011, including 854 in Broome County (Binghamton), and was the highest contributing factor in accidents resulting in injuries, including:
Traumatic brain injury (TBI)
Spinal cord injuries
Broken Bones
Fractures
Disfigurement
Loss of limbs / amputation
Any injury can result in extended hospital stays, costly medical bills, lost income and more. If you've suffered a personal injury due to someone else's distracted driving, it's important to understand your legal options.