Five Tips On How To Avoid Deer Accidents This Season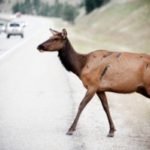 Deer season is here, and as anyone who lives in the Central New York area knows, deer are everywhere this time of year due to breeding season. Combine moving cars and moving deer and you're bound to end up with accidents. Here are five tips on how to avoid deer accidents this season according to the Insurance Information Institute (III):
Be Aware of the Time of Day. Although deer travel at all times of the day, the times from sunset to midnight and before and after sunrise are generally the highest risk times for deer related accidents.
Watch for Other Deer When You See One. Deer generally travel together in small groups. So, if you see one deer, there's a good chance that more will be nearby. Taking extra caution in these situations could reduce accidents.
Utilize Your High Beam Lights. Whenever it's dark, foggy or overcast and there is no oncoming traffic, utilizing your high beams simply provides you with better visibility. They may help to alert you to deer in the road and on the side of the road and alert them to your presence as well.
Sound Your Horn. Deer whistles have never proven to be effective in scaring away deer. However, sounding your horn with one long blast will generally do the trick.
Brake Firmly, But Stay in Your Lane. Many accidents result from cars swerving to miss hitting a deer and hitting another car instead. The III recommends that you brake firmly when you notice a deer in or near your path, but to stay in your lane in order to avoid losing control of your vehicle.
Although you can be as careful as possible, deer accidents just happen. If you do hit a deer, it's important not to touch it, as it can hurt you – and further injure itself – in the process. It's always best to call the police and use reasonable care to alert other cars of the accident, such as by keeping your high beams on, using flares or putting down cones if you have them.
DOT Reports Over 35,000 Deer Accidents In NY Every Year
According to syracuse.com, the New York Department of Transportation (DOT) says that over 35,000 motor vehicle accidents involving deer were reported in New York State in 2011 – the latest data available. Many of those accidents caused drivers to seek medical attention and likely resulted in significant medical bills and lost wages, not to mention the damage to their vehicles – which can be significant. In fact, according to the III, the cost of an average insurance claim for vehicle damage due to a deer accident is approximately $2,800. Deer accident claims that involved bodily injury average approximately $10,000.
Rest assured that insurance companies do not have your best interests at heart – regardless of what their advertisements say. An aggressive and experienced car accident lawyer understands how insurance companies really operate by denying legitimate claims, delaying your payments or offering low settlements – all in the hope that you'll simply get frustrated with the bureaucracy of the system and accept whatever they give you. However, make no mistake – you do not have to settle for anything less than you deserve.