Distracted Driving Guidelines Aim to Reduce NY Crash Deaths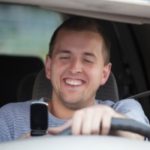 Federal safety officials have issued new guidelines for built-in car phones, stereos and GPS devices in the hope of reducing distracted driving accidents in New York State and nationwide.
The voluntary guidelines, issued by the National Highway Traffic Safety Administration, encourage automakers to add safety features to reduce the distraction time when drivers adjust electronic gadgets.
"Distracted driving is a deadly epidemic that has devastating consequences on our nation's roadways," said U.S. Transportation Secretary Ray LaHood in a written statement. "These guidelines recognize that today's drivers appreciate technology, while providing automakers with a way to balance the innovation consumers want with the safety we all need."
This is from the NHTSA news release:
The guidelines include recommendations to limit the time a driver must take his eyes off the road to perform any task to two seconds at a time and twelve seconds total.
The guidelines also recommend disabling several operations unless the vehicle is stopped and in park, such as:
Manual text entry for the purposes of text messaging and internet browsing;
Video-based entertainment and communications like video phoning or video conferencing;
Display of certain types of text, including text messages, web pages, social media content.
The recommendations come on the heels of a comprehensive NHTSA study – The Impact of Hand-Held and Hands-Free Cell Phone Use on Driving Performance and Safety Critical Event Risk – that showed that using hand-held phones and portable devices significantly increases the risk of being in a crash.
Here are some other findings from the NHTSA research:
Text messaging, browsing, and dialing take a driver's eyes off the road for the longest period of time.
Text messaging increases the risk of a distracted driving crash or near-crash by two times and takes a driver's eyes off the road for an average of 23.3 seconds.
Visual-manual activities required to make a phone call – such as reaching for the phone, looking up a contact and dialing the number – increase the crash risk by three times.
Visual-manual activities required to use a hand-held phone increase the crash risk 1.73 times.
Even hands-free and built-in cell phones require some visual-manual activity and therefore increase the crash risk, according to the study.
The guidelines and research are part of the Transportation Department's Blueprint for Ending Distracted Driving, a comprehensive plan to reduce car crash deaths and injuries.
Source: