DeKalb Construction Accident Victim's Brave Co-Workers May Have Saved His Life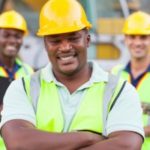 A Rensselaer man was critically injured in a recent construction accident in DeKalb after heavy machinery and equipment collapsed onto the front loader he was operating – trapping him inside until a rescue team could free him. However, his co-workers' bravery may have saved his life.
Co-Workers Come To The Rescue In Potentially Fatal Accident
A recent construction accident in DeKalb had the potential to be deadly. According to the Watertown Daily Times, 61-year-old Ronald Stiles of Rensselaer Falls and owner of Process Sand & Gravel was loading stone and gravel when heavy machinery and equipment collapsed onto the front loader he was operating and trapped him in the loader's cabin.
Co-workers called a rescue team, but were concerned about moving Stiles in case he had suffered a serious back injury. However, they knew they had to do something to relieve the pressure Stiles was suffering. One of Stile's co-workers along with an employee of the town of DePeyster each operated a front loader to push the fallen equipment off the excavator's cab, relieving some of the pressure on Stiles until rescue teams got to the scene.
Firefighters eventually had to use a hydraulic rescue tool to free Mr. Stiles, who was pinned to the steering wheel of the loader. Stiles was taken to Hendricks Field airport on Scotch Settlement Road and was flown by LifeNet helicopter to Upstate Medical University in Syracuse where he was in critical condition due to head injuries.
Determining Fault in New York Construction Accidents
Injuries sustained in construction accidents such as falls, being struck by heavy machinery or falling objects are generally very serious. Workers who sustain severe trauma may not be able to work again due to amputation, a spinal cord injury, neck injury, or a serious head injury.
Determining fault in a New York construction accident claim is not always easy – especially when numerous contractors, subcontractors, construction crews and landowners are involved. That's why it's important to have an experienced New York construction accident lawyer examine the facts of your case to assess who was negligent and should be held responsible for your injuries. We are that law firm.