Defining "Personal Injury" – What Does It Really Mean?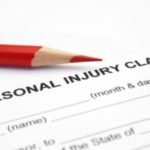 Although the term "personal injury" means pretty much what it sounds like, it is also a legal term that can pertain to many areas of the law such as car accidents, medical malpractice, workers' compensation, premises liability, product liability and much more. In fact, most people would be very surprised to realize just how many types of situations it does apply to.
So, what does the term personal injury really mean?
Failing To Act Reasonably / Breaching a Duty of Care
According to LexisNexis, personal injury is defined as a branch of tort law covering any wrong or damage done to another in his person, property, rights, or reputation. To put it in more simple terms, a personal injury generally occurs when someone fails to act reasonably or breaches a duty of care – causing someone else to be injured. Here are some of the most common examples based on specific injuries:
Car, truck and motorcycle accidents. Car, truck or motorcycle accidents are likely the most common form of personal injuries and can be the result of drunk driving, distracted driving, texting while driving and much more. Personal injury accidents can also involve pedestrians, bicycle riders, boats, recreational vehicles such as ATVs (all-terrain vehicles), snowmobiles and more.
Medical malpractice. Medical malpractice can occur due to the negligence of any licensed healthcare provider (such as doctors and nurses) and those who work in a hospital medical center, an outpatient surgery center, a nursing home, or an assisted living facility. These types of personal injury cases are generally judged by the standard of care that another healthcare professional would have provided in a similar situation.
Workers' compensation. The most common workplace accidents include falls, crushing injuries, exposure to toxic chemicals, asbestos inhalation and many types of construction accidents. These can result from OSHA (Occupational Safety & Health Administration) violations and employers failing to provide safety equipment or warn workers about worksite dangers. Every state maintains its own workers' compensation programs.
Premises liability accidents. Slip and fall accidents, dog bites and swimming pool injuries are likely the most common types of personal injuries when it comes to premises liability. Home and business owners can be held liable for failing to maintain their properties or warn about known dangers. However, liability generally will depend on why you were there.
Product liability accidents. Product liability accidents frequently occur due to dangerous or defective products such as toys, car seats, high chairs, motor vehicles, household appliances, tools, prescription drugs others that were defectively designed, defectively manufactured or when manufacturers, sellers or distributors failed to warn of known defects and many others.
As you can see, personal injuries can occur in various forms and under numerous circumstances. Regardless of the type of personal injury you may have suffered, an experienced personal injury attorney can determine whether someone acted unreasonably or whether they breached a duty of care that was the direct or proximate cause of your injuries. If they have, you may be entitled to compensation.
Personal Injury Damages
Victims of a personal injury accident may be able to recover damages for medical expenses, property damage, emotional and physical pain and suffering, loss of consortium or companionship, lost wages, attorneys' fees, loss of future earnings and more.
In most cases, an insurance company will be involved. This can often make recovery more difficult as insurers generally want to pay out as little as possible. An experienced personal injury lawyer knows how insurance companies operate and can help you to even the odds at the bargaining table.