The Dangers of Distracted Driving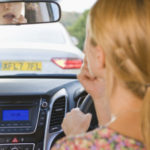 Any time a driver engages in activities that take his or her eyes off the road, distracted driving has occurred. Smart phone use, including texting while behind the wheel, has turned distracted driving into a national epidemic.
According to statistics from Distraction.gov, the official U.S. government website for distracted driving, 3,154 people lost their lives and another 424,000 were hurt in vehicle-related accidents involving distracted drivers in 2013.
Teenagers may be especially at risk from distracted driving. Motor vehicle accidents are one of the most common causes of death among teenagers. Consider these statistics:
Surveys show an estimated 25 percent of teen drivers admit to responding to text messages each time they drive.
About 20 percent of teens surveyed — or one in every five — admit to having multi-message text conversations while behind the wheel.
The risk of a collision is 23 times greater when a driver is driving distracted than when paying attention to the road.
One Real-Life Consequence of Driving Distracted
Those numbers don't tell the whole story. Driving distracted has real-life consequences on victims and their families. Take, for example, Nikki's Foundation-People Against Distracted Driving (PADD). This foundation was launched in 2012 by the grieving family of a high school senior who lost her life in a distracted driving accident. The fatal accident occurred about a month before she was supposed to attend her high school senior prom.
What hits home most about this devastating accident is that the at-fault driver was the victim's own friend — and the driver of the vehicle in which Nikki was riding.
Nikki's Foundation is working tirelessly to raise awareness of the dangers of distracted driving and educate people on the risks. Donations of "Stay Alive Don't Text and Drive" signs to schools and towns, financial assistance and support to the families of those injured or killed in distracted driving accidents, assemblies at high schools and colleges, and social events, are a few of the ways this group is seeking to reduce the impact of distracted driving accidents on our teens.
Education is Key to Eliminating Distracted Driving
Distracted driving accidents are entirely preventable, and key to that prevention is education. Knowing how to talk to teens about distracted driving can be challenging, but these conversations need to take place. Parents need to be unrelenting when getting out the message on the dangers.
Work with your teen, come up with an agreement as to what is acceptable behavior behind the wheel and get your teen to commit to driving distraction-free. The government site has great information for teens that can help you get the conversation started. Among them is one of our favorite words of wisdom: "Don't stop at being a great driver — be a great passenger! Make sure to call out your friends, and even your parents, if you see them using a cell phone behind the wheel."
All it takes is a few seconds of being distracted for a serious or fatal accident to occur. We want to ensure that your loved one doesn't suffer the same fate as Nikki or her parents. Whatever you can do to minimize the risk will go a long way towards keeping you and those you love safe.
Sources: