The Most Dangerous Roads in America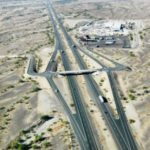 For many families, summertime means long and adventurous road trips across the country. The U.S. Department of Transportation estimates that there are over 200 million drivers on our roadways at any given time, making many roads congested and dangerous.
When the summer weather and driving conditions are ideal, the number of drivers on the road could be close to the upper limit, increasing the potential for a car accident. While a majority of crashes result from poor driving behaviors, such as distracted driving, speeding, and driving while intoxicated, some crashes occur due to the poor condition of a road.
Research Your Route
Whether you are heading to the California Coast or planning to see all the National Parks, it's important to do a little research before hitting the road. There are many different roads presenting dangerous conditions that should be avoided when possible.
If your mapped out route includes one of these treacherous roadways, it's good to know when to drive with extra care. Be aware and cautious, and don't let dangerous roads ruin your summer plans.
Dangerous Roads Ahead: Drive With Caution
While every road in America has the potential to be dangerous, due to irresponsible drivers or poor road conditions, there are some roads that are notorious for being more dangerous (and deadly) than others. While every driver should follow the rules of the road, extra caution and awareness should be used when navigating any road deemed "dangerous."
Arizona has more than 75 state routes, highways, and interstates, but I-10 is by far the most dangerous road for travel in Arizona; in particular, the 150-mile stretch from Phoenix to the California border.
One may wonder why a stretch of road through a desolate, desert area could be so dangerous, accounting for up to 85 accident deaths per year. Law enforcement in the area blames the almost daily crashes on poor driving behaviors such as distracted driving, excessive speed, impaired driving, and aggressive driving.
On a short, 20-mile stretch of road near Charleston, South Carolina, homemade crosses line the side of I-26, memorializing the lives lost in fatal car accidents. While many fatal accidents occur due to poor driving behaviors, a majority of the crashes that take place on this dangerous road are due to poor road conditions.
Blind curves, bad grading, lack of barriers, and steep ditches are some of the less-than-ideal road conditions responsible for more than 300 hundred deaths over the last decade.
Also known as the "Highway to Hell", US Highway 431 is a 353-mile stretch of road running from Alabama-Tennessee line down to Dothan, Alabama. Not only is U.S. 431 locally known as one of America's most dangerous roads, but also recently made a "world's most dangerous roads" list.
While improvements have been made throughout the last couple of years, poor visibility, sudden 2-4 lane changes, and speeding were responsible for an estimated 20 deaths over a ten-year period.
Driving through Montana can often be anything but congested. On Highway 2, drivers can navigate long stretches before seeing another town or vehicle and if an accident occurs, it may take over an hour for emergency responders to arrive.
According to the Montana Department of Transportation, the majority of accidents on this road are related to high speed. In a state where 70 mph is considered the "norm", even through winding and mountainous roads, it's easy for drivers to lose control of their vehicle.
An even more dangerous trend is that approximately 70% of Montana's drivers fail to wear a seatbelt, as reported by the Montana DOT. Obviously, this is a recipe for disaster.
I-15 (Los Angeles to Las Vegas)
According to a report released by Popular Mechanics, the 180-mile stretch between southern Nevada to southern California has more fatalities than anywhere else in the state.
More than 8 million drivers travel this section of interstate each year and the majority of fatal accidents occur when "unrestrained" drivers and passengers are involved in accidents related to distracted and impaired driving.
While improvements have been made within the last couple of years, I-15 is still a dangerous highway for many travelers.
Be a Smart and Safe Driver
While a road trip can be a sightseeing adventure, it may also be a dangerous trip. Every road travelled, from rural to Interstate, has the potential to be deadly. While some accidents are unavoidable, most are preventable.
When traveling cross-country, stay alert, drive safe, and follow the rules of the road. Make your summer road trip something to remember, not fear.