Construction Accidents are on the Rise in NY—and You Won't Believe Who Is at Risk of Being Hurt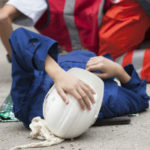 The rebounding economy, which we are all thankful for, has increased the number of cases we are seeing in New York in construction accidents. It has also increased the potential for injury for thousands of of workers on the construction site as well as others who pass construction sites throughout New York State on any given day.
In fact, the number of construction accidents in New York City rose by 24 percent from 2013 to 2014, according to The New York Times. The report said eight fatal construction-related accidents so far this year had equaled all construction fatalities recorded in 2014.
Most construction accidents injure workers, but the Times report describes an accident in March of this year in which a construction fence meant to protect pedestrians from falling objects came loose in the wind and struck a woman and killed her.
"Not since 2008, during the height of the last building boom, has the number of construction accidents been so high, when a rash of episodes, including two falling cranes, claimed 19 lives," the Times said.
Prior to the NYT report, the Wall Street Journal said its review of NYC Building Department records showed that that "at least once a month on average, a passerby is injured near a New York City construction site by anything from falling bricks, hammers and glass, to windblown fences and collapsing sidewalk sheds."
Construction workers and particularly their foremen and other supervisors understand the dangers to workers and others around construction sites. They are required by law and regulations to mitigate these hazards to them.
In addition to issuing safety regulations, or "standards," the Occupational Safety and Health Administration (OSHA) publishes a variety of free training manuals and programs. Among them is the Focus Four series that centers on the four most prevalent causes of construction fatalities, including "struck-by" accidents chiefly caused by falling objects.
Objects fall and can strike workers or passersby at construction sites if they are:
Dropped or moved unsafely – by workers or machines (cranes, hoists, etc.).
Collapse because of faulty construction ­– i.e., scaffolds, walls, fences, sheds erected to protect walkways, etc.
Improperly stored.
Ejected by power tools.
To guard against injury from falling objects, OSHA and local regulations mandate the use of such safety features as debris nets, platforms and canopies adjacent to structures under construction. Safety protocols also call for stacking or otherwise storing tools and materials so that if left undisturbed they will not fall.
When a pedestrian, driver or another "civilian" is injured in a construction site accident, the owners of the site or the contracting companies working there may be liable if safety protocols were ignored and this negligence caused the accident.
The owner of the site may also be liable to construction workers on the job who are injured for example, due to a fall from an elevated work area.
In Binghamton and the nearby communities of Broome, Tioga, Chenango, Delaware, Cortland and Tompkins counties in Upstate New York, Scott C. Gottlieb, Injury Law Attorney, helps people injured in accidents that were not their fault obtain compensation for their medical expenses and other losses.
Many construction "accidents" are entirely preventable and should not have happened. If you've been hurt in a construction site accident, contact a New York construction accident attorney to discuss your case and the legal options available to you.