The Most Common Cause of Traumatic Brain Injuries May Surprise You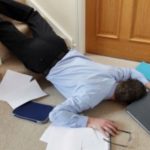 It is estimated that every year 1.7 million people seek treatment for traumatic brain injuries (TBI) that result in direct and indirect medical costs of $77 billion. Clearly, it is a major and costly concern, but the most common cause of TBIs may surprise you – falling down.
The Reason Why TBIs Are So Common
Most people think TBIs are the result of a traumatic experience involving horrific carnage. The truth of the matter is that the number one cause of TBIs is simply from falling. So, what are the others? According to research from the Centers for Disease Control & Prevention (CDC), these are the most common contributing factors of TBIs:
Falls. Falling continues to be the leading cause of TBI in the United States at 35.2%.
Motor Vehicle Crashes. Motor vehicle crashes and traffic-related incidents are the second leading cause of TBI at 17.3%. It is results in the largest percentage of TBI-related deaths.
Struck By/Against Events. Struck by/against events, which include colliding with a moving or stationary object, account for 16.5% of TBIs.
Assault. Assaults are responsible for approximately 10% of TBIs.
Other/Unknown. Approximately 21% of TBIs fall into the "other" or "unknown" category. However, many of the "known" injuries include medical complications for civilians and blast injuries for active duty military personnel in war zones.
While the majority of TBI causes are known, treating them continues to be a concern in medical communities around the world.
NIH Awards $18.8M To Fund More TBI Research
According to a report from the University of California San Francisco (UCSF), the National Institute of Health (NIH) is awarding $18.8 million over five years to support worldwide research on concussion and traumatic brain injury. The award, which will be administered through UCSF, is one of the largest international research collaborations ever coordinated by funding agencies.
It will include a team of U.S. researchers at more than 20 institutions throughout the country who are participating in the International Traumatic Brain Injury (InTBIR) Initiative, a collaborative effort of the European Commission, the Canadian Institutes of Health Research (CIHR), the National Institutes of Health (NIH) and the U.S. Department of Defense (DOD). More than 63 institutions and 8,000 patients will participate in the international consortium to gain further perspective on why TBIs continue to be such a major health concern.
TBIs Frequently Misdiagnosed, Misunderstood & Under-Treated
The CDC estimates that 2 percent of the U.S. population now lives with TBI-caused disabilities, at an annual cost of about $77 billion and it is a contributing factor in a third of all injury-related deaths.
The bottom line is that brain injuries affect everyone – including New Yorkers. In fact, an average of 2,100 New Yorkers die and another 18,500 are hospitalized for brain injuries each year.
Unfortunately, TBI injuries are frequently undiagnosed, misdiagnosed, inadequately understood and under-treated. While the NIH research will hopefully shed some light on the issue, the confusion surrounding these injuries make it that more important for anyone who's suffered a TBI to consult with an experienced brain / head injury attorney.