Click It or Ticket Seatbelt Sweep in New York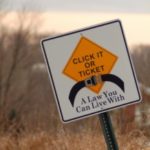 A "Click It or Ticket" law enforcement campaign – in effect through June 3 – is intended to reduce injuries and deaths from New York auto accidents.
Over a two-week period that includes the traffic-heavy Memorial Day weekend, state troopers, sheriffs' deputies and local police will all be on the lookout for New York State drivers who are not wearing seatbelts.
"As we kick-off the busy summer driving season it's important that everyone buckles up every time they go out, both day and night – no excuses," said North Syracuse Police Officer Jeff Tripp in a CNY Central news report.
The large majority of fatal accidents involve drivers who were not wearing their seatbelts.
Five Seatbelt Statistics
52 percent of the 21,253 people killed in crashes in 2011 were not wearing their seatbelts, according to the National Highway Traffic Safety Administration.
Seatbelt compliance nationwide is around 90 percent.
In New York State, more than 400 police agencies will be on patrol for seatbelt violators during the "Click It or Ticket" campaign.
The penalty for not wearing a seatbelt in New York is a fine of up to $100.
45 million Americans are still not buckling up.
Under New York law, all front seat passengers are required to wear seatbelts regardless of age. All rear seat passengers under 16 years old must wear a seatbelt, and children under the age of four have to be secured in a child safety seat.
People who have been injured in an auto accident – whether or not they were buckled up – might be entitled to compensation for their medical bills, lost earnings and other damages. Contact a New York personal injury attorney for more information.
Source: