Car Crashes Are Major Cause of Traumatic Brain Injury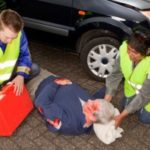 Some people who are in a New York car crash wind up with a Traumatic Brain Injury – or TBI.
Typically, TBI is caused when the head strikes the dashboard or windshield. But it can also happen when the head is jerked violently back and forth on impact, causing a jarring of the brain inside the skull.
Each year, an average of 1.7 million people nationwide sustain a TBI. This can disrupt not only the life of the victims but also their families.
An accident potentially causing a TBI happened on June 12 on Ocean Parkway at West Gilgo Beach. A driver lost control of a 2006 Chrysler Sebring and struck a sand embankment on the shoulder of the road, according to a New York State Police report. A passenger in the back seat was thrown from the car and suffered a head injury. He was taken to the hospital, although it is unclear if he sustained brain damage.
Motor vehicle collisions are the second-leading cause of TBIs, according to the U.S. Centers for Disease Control and Prevention, accounting for 17 percent of brain injuries nationwide. Only falls – which account for 35 percent – cause more brain injuries.
Four Types of TBI Injuries
A non-fatal but severe TBI may result in an extended period of unconsciousness, coma or amnesia, says the CDC.
TBI may lead to short-term or long-term health issues affecting:
Cognitive function (attention and memory)
Motor function (extremity weakness, impaired coordination and balance)
Sensation (hearing, vision, impaired perception and touch)
Emotion (depression, anxiety, aggression, impulse control, personality changes)
If you or someone you know has suffered an accidental brain or head injury, contact a New York injury law attorney to find out if you have a right to compensation.
Sources: