Broken Leg Leads to $3 Million for Pain and Suffering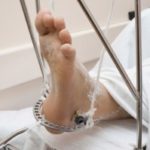 A New York construction worker who broke his leg when he fell off a ladder is entitled to more than $3 million for pain and suffering as a result of a recent ruling from a state appeals court in Hernandez v. Ten Ten Co. (1st Dept. 2013).
The case arose when a man was injured in a construction accident at Great Neck. He plunged from a ladder while working on a broken light fixture.
Among his injuries:
Severe fractures to the tibia and fibula. The damage to his leg required complicated surgical repair. A rod was inserted from his knee to his ankle. A bone graft was required. Since then, he has walked with a limp and needs crutches.
Insomnia. The pain he experiences prevents him from sleeping without medication.
Back injury. He sustained lumbar radiculopathy, with accompanying persistent lower back pain.
Sexual disorder. He is unable to enjoy intimate physical relations with his wife.
Burning pain in legs and feet. His skin is discolored, dry and flaky.
Depression. He became inactive, reclusive and prone to crying spells. The medicine he takes makes him groggy, inattentive and unfocused.
His injuries grew steadily worse after the accident. He was unable to return to work.
Multi-Million Dollar Trial Award
At trial, a jury awarded him $1 million for eight years of past pain and suffering and $2,166,667 for 25.8 years of future pain and suffering, based on actuarial tables.
The jury also awarded the worker's wife $341,666 for the loss of eight years of her husband's services. This award was based on evidence that he could no longer help care for the children, perform household chores, take her out socially or engage in intimate relations.
The jury also found that the worker was 46.67 percent at fault for the accident, and that the defendant was 53.3 percent at fault. This shows that plaintiffs can recover sizable financial damages even though they are partially responsible for their injuries.
The following is excerpted from the court's opinion:
The jury award of $1,000,000 for past pain and suffering over 8 years, and $2,166,666.67 for future pain and suffering over 25.8 years, does not deviate materially from what is considered reasonable compensation (see CPLR 5501[c]). Indeed, the evidence showed that plaintiff had sustained fractures to his tibia and fibula, underwent leg surgery entailing installation of a metal rod and screws in his leg, sustained back injuries, and suffered from reflex sympathetic dystrophy, complex regional pain syndrome, depression, sleep disorder, and sexual dysfunction.
Source: