Boating Under the Influence Causes Serious Accidents in New York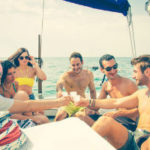 Boating is a popular summertime activity for many people in New York. It is no surprise that approximately 450,000 boats were registered here in 2014. People love spending time on the water during the warm summer months, enjoying the fresh air and sense of freedom. With all of the enjoyment boating brings, it also poses serious dangers and risks, particularly when alcohol is involved.
Operating a boat is not a task to be taken lightly. Boat operators need to be alert and aware at all times if they want to keep themselves, their passengers and other boaters safe, and to avoid a potentially catastrophic boating accident. Boating can turn deadly in the blink of an eye when boat operators, and even passengers, make the decision to consume alcohol while on the water.
What many people may not realize is that New York law makes it illegal to operate a boat with a blood alcohol concentration (BAC) of 0.08 or higher. Commercial operators can be charged with boating under the influence (BUI) for a BAC of 0.04 or higher and minors under the age of 21 are considered to be intoxicated if they have a BAC of 0.02 or higher. Penalties for BUI are similar to the penalties levied against drivers for driving under the influence (DUI), according to the National Safety Commission.
Boating Accident Statistics
The U.S. Coast Guard reveals in its 2014 Recreational Boating Statistics Report that the majority of fatal boating accidents occur between May and August. The summer months are generally when more boats are out on the water, significantly increasing the risk of injury or death. In 2014, more than half of the year's boating accidents (2,816 out of 4,064) occurred during this four-month period. Of these accidents, 2,474 cause injuries and 342 ended in the loss of life.
According to the 2014 Recreational Boating Report from the State of New York's Parks, Recreation and Historic Preservation, 194 boating accidents were reported in New York during 2014. Among these 194 boating accidents, 103 people sustained injury and another 27 lost their lives. This puts the boating accident fatality rate at 6.01 per 100,000 boats registered, which is higher than it has been since 2003, when the rate was 6.42 per 100,000 registrations.
Alcohol and drug use were listed as the leading causes of fatal boating accidents between 2005 and 2014. In this 10-year span, 48 people lost their lives in boating accidents in which the cause was determined to be alcohol use, and another four died as a result of drug use while boating. The number of people who sustained fatal injuries in boating accidents caused by alcohol or drug use was one and a half times the number of boating fatalities from any other cause, such as operator error, reckless operation, or poor weather or water conditions. In 2014, either alcohol or drugs were found in 41 percent of the boating accident fatalities (11 out of 27 fatalities), according to the boating report.
Boats are Not the Only Watercraft in Which Fatal Accidents Occur
Boats are not the only watercraft in which fatal accidents occur either. New York's Recreational Boating report from 2014 revealed boating accidents involving:
A canoe which capsized as attempts were made to anchor the vessel. This caused the couple inside to be thrown overboard. The man never resurfaced. His whereabouts are unknown.
A kayak that collided with a tree trunk on a swollen river and overturned. One victim was able to make it to shore, while the other ended up being pinned beneath the tree trunk and subsequently drowned. Reports indicate a partially empty bottle of wine was found in the kayak upon its recovery.
A canoe which ended up cracking and capsizing after striking a tree in the middle of a creek. The occupants of the vessel were thrown out. Two were able to get to shore, yet the third one drowned after becoming entangled in debris below the surface.
A raft in which one of the occupants decided to exit the raft by rolling backwards off the vessel, similar to what divers do. The individual resurfaced shortly afterwards, then went under again. His body was recovered later and he was found with a BAC of 0.07.
Legal Help for New York Boat Accident Injuries
If you or a family member was injured in a New York boating accident caused by an impaired boater, put our years of legal experience to work for you. Contact our attorney for a free consultation about your claim. We take calls 24 hours a day. Remember, you owe no legal fee unless we win your case.
Sources: