Nine Tips to Avoid Winter Car Accidents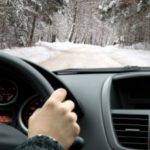 Ice and snow on New York roads contribute to car accidents, but many winter accidents are primarily the result of driver negligence. In many cases, these crashes could have been avoided.
If a driver causes an accident resulting in injury or death because he or she failed to drive safely in snow and ice, the motorist may be held legally accountable for the injuries that result. Scott C. Gottlieb, New York car accident attorney, helps people who have been injured in car accidents in Binghamton and throughout New York.
Considering that the Binghamton area averages more than 10 feet of snow each winter according to the National Weather Service, driving on snow and ice is something most people in our area must deal with every year.
Winter weather driving tips from the New York Division of Motor Vehicles include:
Make sure your vehicle is ready before driving in winter weather. Make sure the car's heater, defroster, wipers and washers work properly. Ensure that tires have enough tread and use tire chains when necessary.
Start gently and slowly, and drive slowly and smoothly on slick roads. If it is too slippery or visibility is poor, stop at the first safe place.
Check for ice. Ice on a vehicle's windows or wiper blades means there's likely to be ice on the road. The absence of spray from traffic ahead indicates the water on the road has frozen.
Drive slowly and leave extra room between vehicles.
Watch far enough ahead to maintain a steady speed and avoid having to slow down and speed up.
Don't turn or brake sharply.
Take curves at lower speeds and avoid braking in curves.
Avoid driving alongside other vehicles.
Keep in mind that as the temperature rises and ice begins to melt, the road will become even more slippery.
Your best efforts to drive safely in inclement weather don't ensure that you won't be involved in an accident caused by someone else's carelessness. Drivers who don't take snow and ice hazards seriously or who misjudge their driving abilities frequently cause car accidents in winter weather.
Negligent drivers may be held accountable if they cause serious personal injuries or death in a car crash. If you have been hurt by a negligent driver who did not adjust his or her driving for winter weather, contact Scott C. Gottlieb, Injury Law Attorney, today for a free review of your case. You may be eligible for compensation to help with medical expenses, property damage and your other losses.
Call our 24-hour answering service or submit our online contact form now.
Sources: