55,000 Texting While Driving Tickets in 2013 Lead To Tougher NY Laws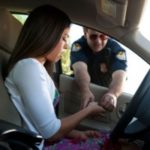 New York Governor Andrew Cuomo has been pushing for stricter distracted driving laws since he took office in 2011 – and for good reason. According to the New York Department of Motor Vehicles, police issued over 55,000 texting while driving tickets in 2013. That 82% percent increase in citations for texting while driving shows the emphasis that New York police are putting on reducing accidents caused by distracted driving.
Gov. Cuomo recently got his wish with the passage of tougher texting while driving laws aimed at avoiding car accidents that cause serious injuries or death – simply because drivers fail to keep their eyes on the road.
Changes to NY Distracted Driving Laws
The changes to New York's distracted driving laws primarily affect new drivers and those who are under the age of 18, who tend to use their cell phones while driving more than other age groups. In fact, statistics show that teen drivers are four times more likely than adults to get into car crashes or near crash events as a result of talking on a cell phone or texting.
Most teenagers have been informed of the serious consequences of using cell phones and texting while driving. Slogans like "Stop the Texts; Stop the Wrecks," "Stay Alive; Just Drive," and "It Can Wait" all get the message across. Yet, despite understanding the risks, many teen drivers simply ignore cell phone driving restrictions. According to the National Safety Council (NSC):
56% of teenagers admit to talking on their cell phones behind the wheel, while 13% admit to texting while driving.
52% of 16- and 17-year-old teen drivers confess to making and answering cell phone calls on the road.
34% of 16- and 17-year-old teen drivers admit to text messaging while driving.
The result is that 21% of fatal car crashes every year involving teenagers between the ages of 16 and 19 were caused by cell phone usage. This result has been expected to grow as much as 4% every year.
New York's tougher new distracted driving laws seek to change that. Drivers who are under the age of 18 or have a probationary license will now see their driving rights suspended for 120 days on a first texting conviction and a year on the second one. Prior to the change, first and second offenses only resulted in 60-day suspensions.
Average Cost of a Distracted Driving Accident? About $40,000
Distracted driving affects everyone – whether you're the one texting or are the unlucky victim of someone who simply had to read that text while on the highway. New Yorkers are hopeful that New York's tougher distracted driving laws will incentivize drivers to avoid using their cell phones when driving. Many believe that more of a cultural change is needed, and until that happens, people will continue to use their cell phones while behind the wheel.
Unfortunately, distracted driving can result in serious injuries such as traumatic brain injuries (TBIs), spinal cord injuries, broken bones and more, all of which require costly medical treatment. According to the New York State Department of Health (NYSDOH), the average cost of a distracted driving accident is about $40,000.
Regardless of whether the other driver was charged with breaking the law, evidence that they were engaged in distracted driving can be used to show negligence.