10 Rules for New York Elevator Safety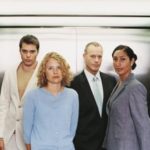 People are injured in elevators in New York City more often than you might think.
Typical injuries are to people's legs and arms that get caught between moving parts.
An example occurred in March, when an 84-year-old man got trapped between floors in an elevator in his Harlem apartment building. Rescuers came running at the sound of his screams.
The following is from NBC News:
An elevator at the New York City Housing Authority-run building on 105th Street started going up before the doors fully closed, according to another neighbor.
Firefighters worked to remove the man from the elevator, and he was taken to Harlem Hospital in critical condition with a possible leg fracture.
The building is home to many elderly, disabled and wheelchair-bound residents. Some of them reported that the building's elevators have a history of malfunctioning
City Housing officials say the incident is being investigated.
10 Rules for Elevator Safety
Look down and make sure the elevator is level with the floor while entering and exiting.
Do not exit the elevator if it stops more than 9 inches from the landing.
Press the "door open" button to hold closing elevator doors instead of using any part of your body.
Never lean on elevator doors.
Keep clothing items like ties and scarves clear of closing elevator doors.
Don't crowd an elevator.
Avoid jumping, which can make an elevator uneven with the floor.
Ring the alarm and wait for help. Never try to pry the doors open.
Don't use the elevator in the event of a fire.
Follow instructions from building management.
Sources: