Binghamton Construction Accident Attorney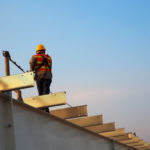 It's no surprise that construction zones are dangerous places. In fact, 1 in 5 workplace deaths occur on construction sites each year. Even though construction workers make the personal choice to work in a high-risk industry, they are still protected under the law if reckless or negligent actions lead to on-the-job injuries.
Binghamton New York construction accident lawyer Scott C. Gottlieb, works to protect the rights of New York workers and families who have been harmed due to a construction accident. Determining who is responsible for the injuries can be difficult in a construction case, and our office works with economic and accident reconstruction experts to identify the at-fault parties and hold them accountable for their negligence. We will fight for you!
Contact our Binghamton personal injury attorney online today or call our New York law office at (607) 235-2754 for a free consultation. Our responsibility is to help you in your time of need. Our Binghamton personal injury lawyer returns all calls every day, usually within the hour – even on weekends.
New York Construction Sites: A Danger Zone
According to federal labor statistics, in 2009 construction workers sustained more fatal injuries than those employed in other industries. Workers are surrounded by heavy machinery, equipment and materials that can cause serious physical harm in an accident. Because of the inherent hazards of working in construction zones, companies are required by law to take all reasonable steps to maintain a safe and secure site, such as conducting regular safety compliance inspections, coordinating job safety, warning workers and bystanders of any hazards and providing all necessary protective equipment. Unfortunately, not every company chooses to comply with those standards, resulting in thousands of injuries each year.
Many times, the injuries sustained in construction accidents are serious ones resulting from falls, being struck by heavy machinery or falling objects, fires, explosions, electrocution or exposure to toxic substances. As a result, many workers sustain trauma that can render them unable to work in the industry permanently, such as from a spinal cord injury, brain injury, amputation or neck injury.
The majority of injuries and fatalities associated with construction accidents stem from electrocutions and falls.
Other common types of construction mishaps include:
Cranes and scaffolding accidents;
Malfunctioning machines and equipment;
Trenching and excavation accidents;
Mechanical and chemical handling of compressed gas;
Falls from roofs, scaffolds or other elevated positions;
Logging accidents;
Welding, cutting and brazing injuries;
Ladder injuries;
Collapsed walls and work spaces.
Determining Fault in New York Construction Accidents
Determining fault in a construction accident claim can be tricky, because a variety of parties may be to blame.
Possible defendants include:
Landowners;
Employers;
Architects;
General contractors;
Subcontractors;
Equipment manufacturers;
Construction managers;
Material suppliers.
An experienced NY construction accident lawyer can examine the facts of your case to assess who was negligent and should be held responsible for their oversights. This is called assigning liability.
Assigning liability to a third party (if possible) is an important aspect of any construction accident injury case. That is because New York's workers' compensation laws mostly prevent injured employees from suing their employers or co-workers. That means that a worker's best chance of obtaining compensation for their injuries may be from identifying who else is to blame for what they have suffered and filing a personal injury lawsuit based on negligence.
In a negligence suit, you must prove:
The defendant(s) owed a duty to you;
The defendant(s) breached that duty;
You were injured as a direct result of that breach and damages resulted from the injury.
For example, a construction company may be at fault if they failed to do a safety inspection, or a contractor may be held liable if he/she failed to inform workers of on-site hazards. A manufacturer may be held responsible for injuries caused by defective products such as scaffolding, power tools, cranes, derricks, hoists, conveyers, woodworking tools, ladders, winches, trucks, graters, scrapers, tractors, bulldozers, forklifts, boilers, pressure vessels and gas detectors.
Injured in a New York Construction Accident? Call Scott C. Gottlieb, Injury Law Attorney, Today
Being seriously injured in a construction accident can cause permanent disabilities, rob you of your livelihood and cause tremendous financial burdens. Let Scott C. Gottlieb, Injury Law Attorney, help you obtain the compensation you need.
Experience counts. For more than 30 years, our Binghamton personal injury lawyer has provided legal services to clients throughout Binghamton and the surrounding areas. We are committed to providing aggressive representation while treating each client with compassion and respect.
If you feel that you or a loved one has suffered due to a New York construction accident, call our 24-hour answering service at (607) 235-2754 or fill out the online contact form. All calls and inquiries are responded to the same day, usually within one hour. There is no case-review cost.